Pence Allies Launch Super PAC Ahead of White House Bid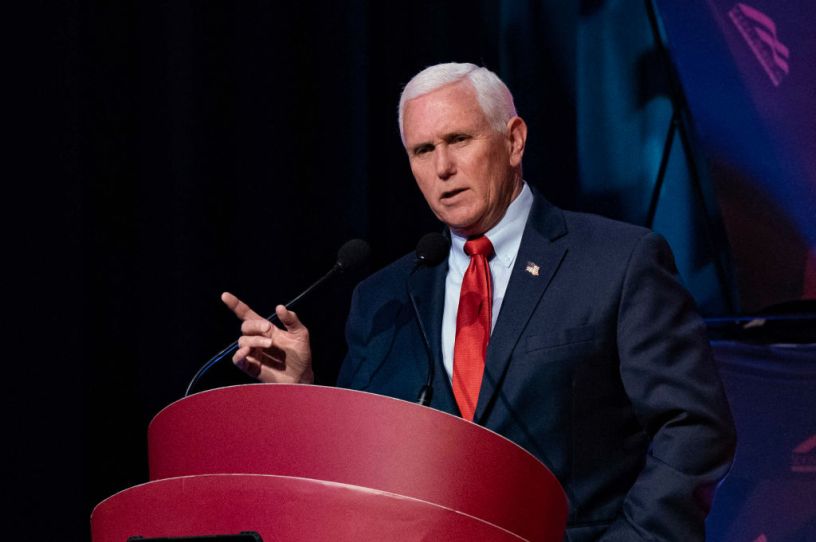 Former Vice President Mike Pence speaks at the University of North Carolina in Chapel Hill, North Carolina, on April 26, 2023. (Photo by Allison Joyce/AFP/Getty Images)
In front of a group of more than a dozen high-dollar Republican donors and fundraisers gathered in Dallas earlier this month, former Vice President Mike Pence made a bold pitch: As a full-spectrum conservative with a proven record of accomplishment at all levels of public service, he was best positioned to win both the Republican nomination in 2024 and the general election.
As Pence prepares to launch his White House bid in the coming weeks, his allies want to amplify that message and cast him as a movement conservative more in the mold of Ronald Reagan than of Donald Trump. A new super PAC, called Committed to America, will support Pence through both a messaging campaign and what its organizers claim will be a robust ground game in early primary states.
"This campaign is going to reintroduce Mike Pence to the country as his own man, not as vice president, but as a true economic, social, and national security conservative—a Reagan conservative," said Scott Reed, a veteran Republican strategist who helped start Committed to America.
Reed, who served as Bob Dole's campaign manager in 1996 and for several years was the political director for the U.S. Chamber of Commerce, will co-chair the PAC alongside former Rep. Jeb Hensarling, a close friend of Pence's from their shared time in the House of Representatives. Among the initial staff hires are Executive Director Bobby Saparow and Communications Director Mike Ricci.
You're out of free articles
Create an account to unlock 1 more articles