Sunday Morning With Kanye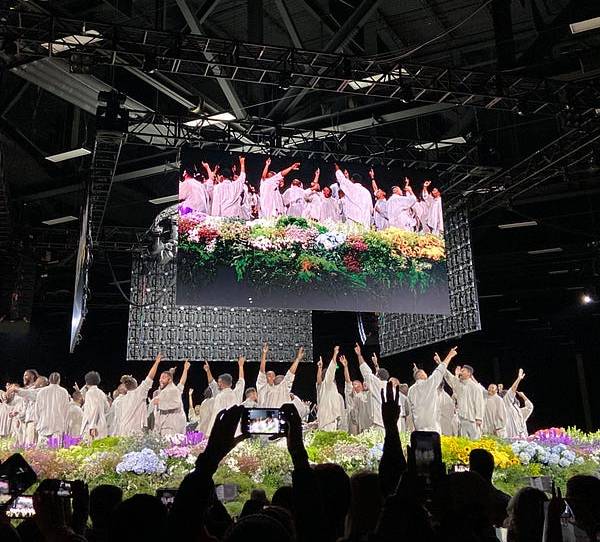 The first sign something was unusual about last Sunday morning was that it didn't take the normal four ounces of C4 to blast my 19-year-old son out of bed early in the morning. In fact, he was "salty" at me for not getting up promptly at 5:50 a.m. The second sign something was unusual was that my family and I showed up outside the LeConte Center at Pigeon Forge, Tennessee, for a worship service three hours early, and we were about 200th in line. The third unusual fact about that Sunday morning was that one of the worship leaders was going to be Kanye West. 
Yep, I attended a Kanye "Sunday Service." Here's the tale.
The story begins in December. Scott Dawson, the leader of the Strength to Stand Student Bible Conference, canceled a planned Sunday morning appearance by Christian comedian John Crist after reports that Crist committed multiple acts of sexual misconduct. Dawson reached out Kanye to ask if he'd be willing to bring his Sunday Service to the heart of Appalachia, and West agreed. Within moments of the announcement, my eagle-eyed mother spotted the news and texted my wife. Nancy activated immediately. She reached out to Strength to Stand, found out it was a youth conference, signed up as a family ministry, and within an hour the fictional "David French Family Ministry" had six passes to Sunday Service. 
And so, there we were—one month later—standing in the freezing cold outside the conference center as thousands of mainly Southern Christian kids streamed into the line. It brought back memories of my own youth group days, of piling into a church bus way too early, joining a mass of other kids—split almost evenly between those who wanted to be there versus those who had to be there—and waiting, always waiting, for the next event, the next concert, or the next speaker who was going to try to change our lives.