When Our Forefathers Fail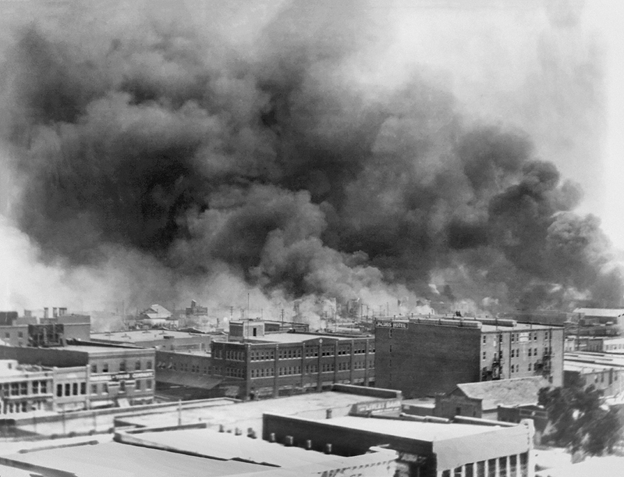 How old were you the first time you heard about the Tulsa Race Massacre? I'm ashamed to say that I was in my forties. Some of my readers might be today years old when they learn of one of the most horrific and brutal events in American history. And it didn't occur in the early days of the republic. It didn't occur in the midst of the American Indian wars. 
It happened 100 years ago this weekend. On May 31, 1921, a 19-year-old black man named Dick Rowland was arrested after an encounter in an elevator with a 17-year-old white elevator operator named Sarah Page. We don't know definitively what happened in that elevator, but Page apparently screamed, Rowland ran, and word soon spread across town that a black man had been arrested for sexually assaulting a white woman.
As an angry white lynch mob numbering in the hundreds gathered, a small band of 25 armed black men arrived to try to protect Rowland's life. At the sight of armed black men, a number of white men left to gather their guns, and the white crowd continued to grow. Approximately 75 more black men arrived to help protect Rowland. At around 10:00 p.m., one of the white men demanded that a black World War I veteran surrender his sidearm. He refused, a shot was fired, and immediately a gun battle broke out in the streets–killing people of both races.
As the outnumbered black men retreated, the white mob surged forward into Tulsa's prosperous Greenwood District, home of Black Wall Street, a thriving neighborhood of black-owned businesses. What happened next is beyond horrifying. The district was set ablaze. In spite of valiant attempts at self-defense, black Americans were shot dead by the dozens (unofficial accounts put the number as high as 300), and there were reports white attackers dropped incendiary devices on the neighborhood from the air. By the end of the massacre an entire neighborhood lay in ruins, black men and women were herded into internment centers, and the dead were buried in mass graves. 
You're out of free articles
Create an account to unlock 1 more articles