Who Will Stop Him?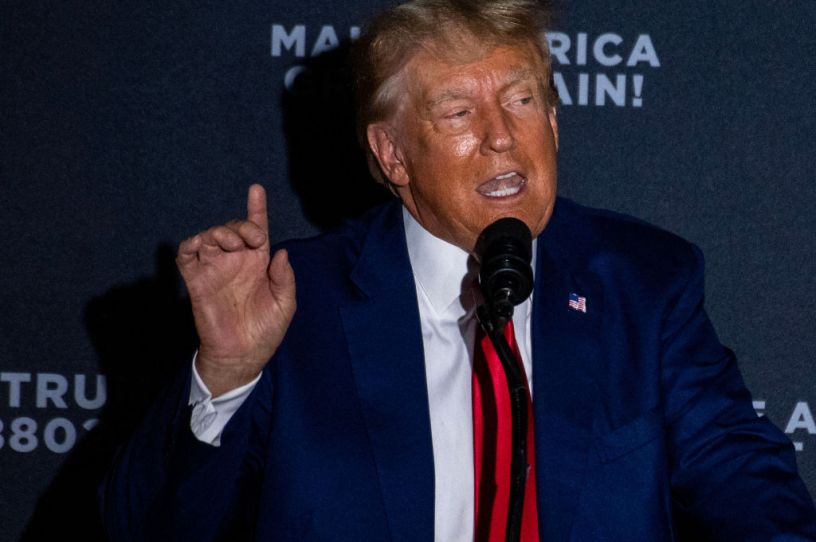 Former President Donald Trump speaks during a campaign rally at Windham High School in Windham, New Hampshire, on August 8, 2023. (Photo by Joseph Prezioso/AFP/Getty Images)
Hey,
So I have only a couple hours to write this "news"letter before I head over to CNN for some pre-debate punditry. After that, I have to watch the debate and then do some post-debate commentary for Dispatch members.
But I really want to write about this idea making waves out there that the 14th Amendment prevents Trump from running again and that this prohibition is both self-executing and self-enforcing. I ain't no lawyer, however, and, as I've written a bunch lately, I'm kind of sick of lawyers acting like a priestly caste these days. If you want to hear the best of such priestly incantations, I highly recommend the latest episode of Advisory Opinions.
So herewith a seemingly meandering elucidation of how I think about this stuff. Like Daniel LaRusso painting the fence and waxing-on and waxing-off Mr. Miyagi's car, my argument will hopefully come together at the end as surprisingly on point. Or not. I meander, you decide.
During the Glorious Revolution, while fleeing England for France, King James II devised an ingenious scheme to thwart his usurpers, William of Orange and Mary II. James—Jimmy to his friends—threw the Great Seal of the Realm into the River Thames. His theory was that since the imprint of the seal was required for all official acts, including the paperwork for convening Parliament, the new would-be king and queen would be effectively powerless until Jimmy came back to retake the throne.
Get every newsletter and all of The Dispatch. Support quality, fact-based journalism.
Start Your Free Trial
ALREADY A PAID SUBSCRIBER? SIGN IN