Tim Scott Gets a Leg Up From DeSantis' Stumble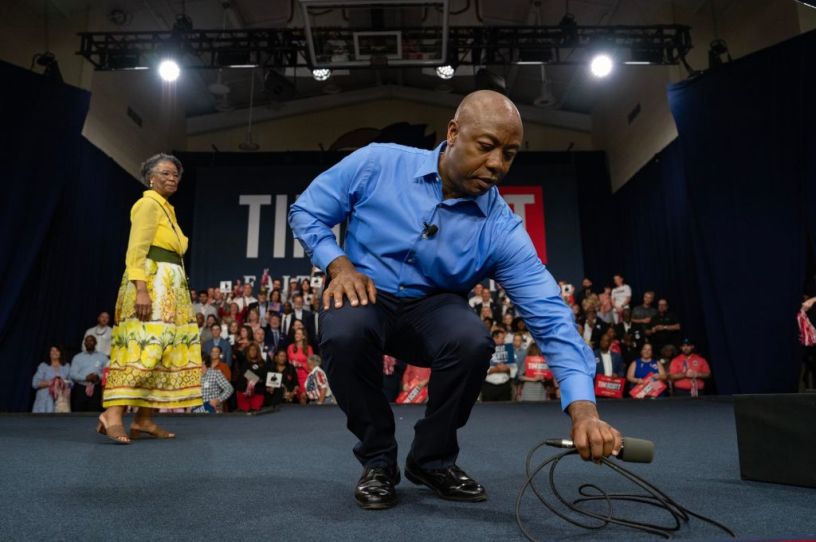 Sen. Tim Scott moves a microphone as his mother, Frances Scott, looks on after he announced his run for the 2024 Republican presidential nomination on May 22, 2023 in North Charleston, South Carolina. (Photo by Allison Joyce/Getty Images)
After two years of getting set to run for president, Florida Gov. Ron DeSantis had a bad, really bad, really, really bad campaign announcement.

Whether that seriously damaged DeSantis' chances, however, remains to be seen. What is clear, though, is that DeSantis' launchpad immolation was an enormous gift to the other candidate who declared this week, South Carolina Sen. Tim Scott.

DeSantis' team says it was able to raise more $8 million in his first day as an official candidate. They had better keep it up, because he has a very expensive campaign ahead of him and a lot of lost ground he must recapture before he can again enjoy the benefits he did in Republicans' initial perception of the race.

DeSantis thrived in the telling of the race that held there could only be one candidate from the traditional GOP to face former President Donald Trump, the final boss. Other candidates who got in were only helping Trump, this reasoning went, by diluting the potency of DeSantis' challenge. Donors, activists, and opinionmongers had to go all in on DeSantis or create the same divided-and-conquered scenario that let Trump ride a plurality to the nomination in 2016.

But this week showed why that theory does not hold, if it ever did.

Creating an air of inevitability is expensive and risky. DeSantis' super PAC, led by Ted Cruz's 2016 campaign manager, is getting ready to roll out a $100 million-early state push, running ads and hiring thousands of staffers. The candidate himself will barnstorm the states with the first three contests—Iowa, New Hampshire, and South Carolina—next week.

The goal here is to shut down the potential candidacies of others by locking down so much of the vote and so many key endorsements that others can't catch on. This can work, as it did for George W. Bush in 2000, or it can turn into a giant suckhole of money, as it did for Bush's brother, Jeb, in 2016. An "inevitable" candidate who proves to be very evitable indeed not only wastes great gobs of money but does huge damage to the party in the process. Running out of money is the cue for a failing candidate to go home, but an overfunded but underwhelming candidate is tempted not only to stay too long but to try to pull down other contenders in the process.

DeSantis has now opened the door on the significant possibility of the suckhole scenario and will need to go a long way to prove that he can really do this. While he's struggling and unable to scare others out of the race, the structure of the contest itself is changing.
Former Vice President Mike Pence is certainly acting like a candidate, and seems headed for an early-summer entry into the race. Though not a heartthrob for many outside of the Christian conservatives who have long boosted him, Pence does represent a credible second-choice candidate for many other voters.

Virginia Gov. Glenn Youngkin is trying to send signals that he may dive into the race late this fall, already positioning himself to play white knight for the party if the initial contenders fizzle.
Chris Christie, the former New Jersey governor who went from Trump insider to searing critic of the former president, seems to be working his way up to something. And he is one who could seriously disrupt the race.

Then there's the potential favorite-son bid of New Hampshire Gov. Chris Sununu, who is looking to enter the race next month; former South Carolina Gov. Nikki Haley, still a candidate in search of a reason; the Trump-thumping former governor of Arkansas, Asa Hutchinson; the little–known North Dakota Gov. Doug Burgum; the California recall candidate and radio host Larry Elder; and the gadfly former drug executive Vivek Ramaswamy, a potential stalking horse for Trump; and more also running or making moves.
So, by the time we get to the first debates in the late summer and early fall, Republicans will have a crowded field and one with at least as much or more talent and qualifications as the open-seat contests of 2016, 2012, and 2008.
Get every newsletter and all of The Dispatch. Support quality, fact-based journalism.
Start Your Free Trial
ALREADY A PAID SUBSCRIBER? SIGN IN