The Sweep: Democrats to Continue Meddling in GOP Primaries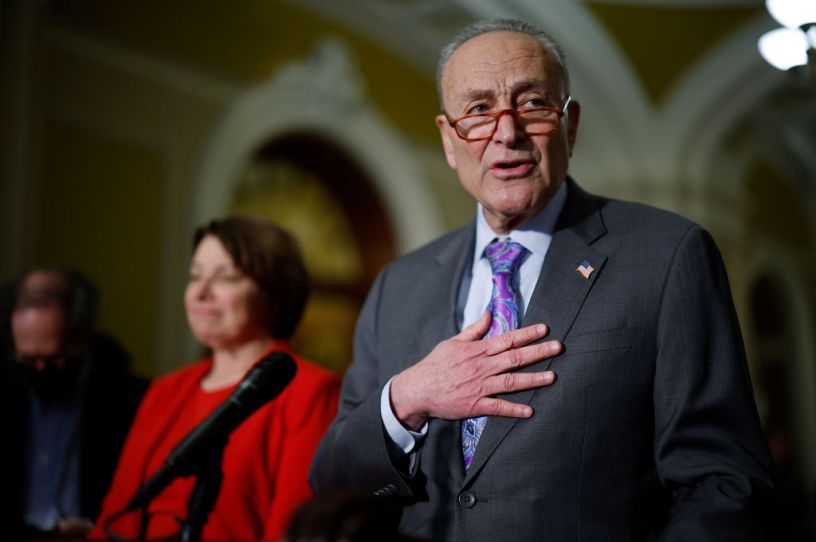 Senate Majority Leader Chuck Schumer talks with reporters at the U.S. Capitol on February 14, 2023. (Photo by Chip Somodevilla/Getty Images)
We're going tapas style for this week's Sweep.
Ceviche
The New York Times reported that "in a race for a State Senate seat in Wisconsin, Democrats are replicating their midterm strategy of elevating far-right Republicans in hopes of beating them in the general election." I'm livid, but what did I expect? Chuck Schumer's 2022 strategy worked. In every race where the Schumer-backed Republican won their primary, the Democrat won the general election. It worked for Claire McCaskill in 2012. It's worked every time the Democrats have tried it. I'm sure the GOP will get in on the game soon enough and then we'll really be off to the races.
And I'm not immune to the pushback that it's the voters' faults. Sure. Kind of. If the ads said, "This person is a lunatic and is being backed by the Democrats because that's how sure they are that he can't win a general," I'd be totally on board. If the ads just said, "This person has repeatedly said the 2020 election was stolen," I'd be pretty close. But that's not what they say!
"Janel Brandtjen is as conservative as they come," reads a postcard sent to Republican voters from the Democratic Party of Wisconsin, which calls her "a conservative pro-Trump Republican."
Get every newsletter and all of The Dispatch. Support quality, fact-based journalism.
Start Your Free Trial
ALREADY A PAID SUBSCRIBER? SIGN IN