The Sweep: It's Party Time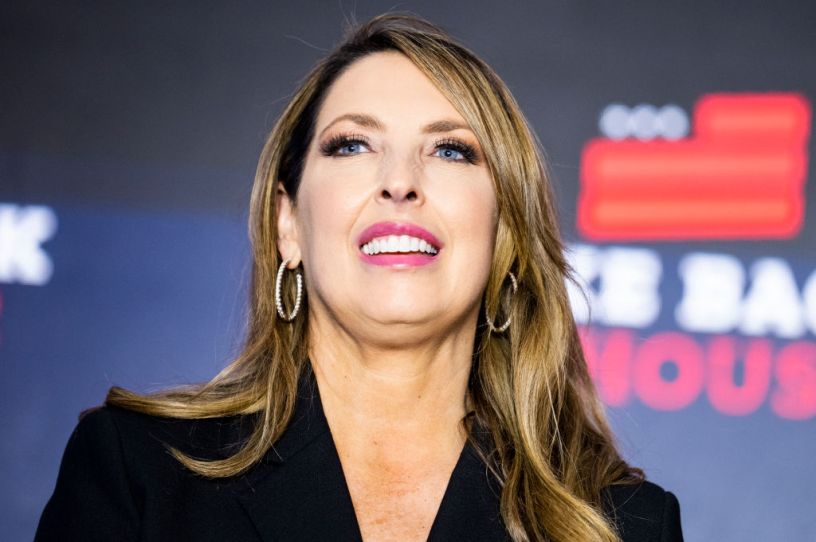 Ronna McDaniel, chair of the Republican National Committee. (Photo by Tom Williams/CQ-Roll Call/Getty Images.)
The Heavy Hors d'Oeuvres: Why Did Sinema Do It?
In 2018, Krysten Sinema beat Martha McSally by 2.5 points in the race to replace retiring Arizona Sen. Jeff Flake, becoming the first Democrat to win a Senate seat in the state in 30 years. Since then, she's acquired a bit of a maverick-y reputation. Her love of bright (very bright) colors shocked a Capitol Hill full of navy and black. But so did her voting record—the first bisexual member of Congress bucking progressives at every turn. In January, she was censured by the Arizona Democratic Party for defending the filibuster, which meant the end of Joe Biden's voting rights legislation.
Polling in the state is clear: Democrats are not happy. Her approval rating at one point was higher among Republicans in the state than members of her own party, although that was a bit misleading. That poll found that 54 percent of Arizona Republicans didn't like her, 51 percent of independents didn't like her, and 57 percent of Democrats in the state didn't like her. Democratic Rep. Ruben Gallego, a Harvard-educated Iraq War veteran, was already favored to win the Democratic primary if and when he officially hopped in the race.
But Sinema beat them to the punch and left the Democratic Party last week, changing her party identification to independent. A lot of people wanted to know what effect this would have on Biden's judicial picks or Senate committee membership in a 51-49 Senate. The answer is: none. The Senate didn't actually have 51 Democrats even before her announcement. Angus King of Maine and Bernie Sanders of Vermont are also independents who "caucus" with the Democrats—same as Sinema says she plans to do. (Technically, she says she won't attend caucus meetings but she will accept committee assignments from Democrats … tomato, tom-ah-to.)
So what was the point? It's all about reelection. Sinema isn't going to face a Democratic primary challenger because she isn't going to run in the Democratic primary. It's a high-wire act because unlike, say, Georgia, Arizona doesn't have a majority rule in which a candidate has to get more than 50 percent of the vote to be elected. So Sinema-the-Independent will now run in an election with a Republican and a Democrat—and the one with the most votes wins.
Get every newsletter and all of The Dispatch. Support quality, fact-based journalism.
Start Your Free Trial
ALREADY A PAID SUBSCRIBER? SIGN IN