The Sweep: The GOP Is Paying a 'Trump Tax' in Its Fundraising Efforts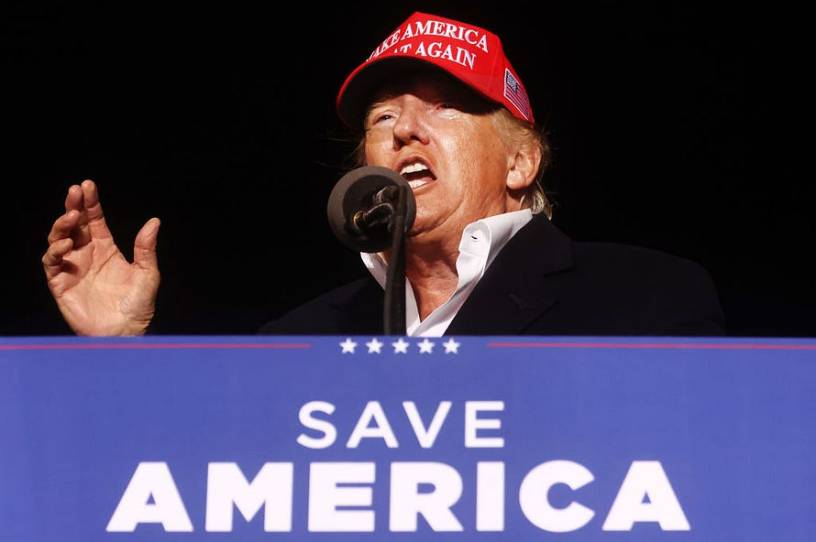 And Then There Was Arizona: Ohio, North Carolina, Missouri, and Pennsylvania all have open Senate seats up for grabs, seats currently held by Republicans who are not seeking reelection. Wisconsin and Iowa will have GOP incumbents running again in their Senate contests. Republicans have to hold onto all of those seats and win one more to take control of the body. Herschel Walker is running in Georgia against incumbent Raphael Warnock. Former Nevada Attorney General Adam Laxalt has Trump's endorsement in Nevada against Democratic incumbent Sen. Catherine Cortez Masto. New Hampshire's Gov. Chris Sununu and Maryland's Gov. Larry Hogan declined to run, making both those seats harder to win. 
That leaves Arizona. Gov. Doug Ducey, who has won three statewide elections, would be the favorite if he jumped in—in the primary and the general—despite or because of his pushback against Donald Trump's stolen election claims. Unlike in New Hampshire and Maryland, Arizona will stay a top-tier race even if Ducey bows out. But look for an announcement one way or another soon. If he joins the Sununu/Hogan bandwagon, it may just answer the question,"'Why would anyone want to be in the U.S. Senate these days?"
Oregon Shocker: As I've discussed on Advisory Opinions (the flagship podcast) a few times, it's hard to disqualify a candidate from being on the ballot. 
All those fantasies from both the right and the left about getting Madison Cawthorn kicked off on the grounds that his support of the January 6 rally violates the 14th Amendment's insurrection clause? Umm, yeah, good luck with that. Why am I so certain Cawthorn will be on the ballot (and Trump for that matter)? There are lots of technical reasons. For example, the 14th Amendment says that an insurrectionist who has previously sworn an oath to uphold the Constitution as a member of Congress can't be a congressman. But it also says that "Congress may by a vote of two-thirds of each House, remove such disability," implying that the person still gets to be elected to Congress but the House can refuse to seat them, as happened once before actually. 
Get every newsletter and all of The Dispatch. Support quality, fact-based journalism.
Start Your Free Trial
ALREADY A PAID SUBSCRIBER? SIGN IN