The Sweep: The Speech Trump Should Have Given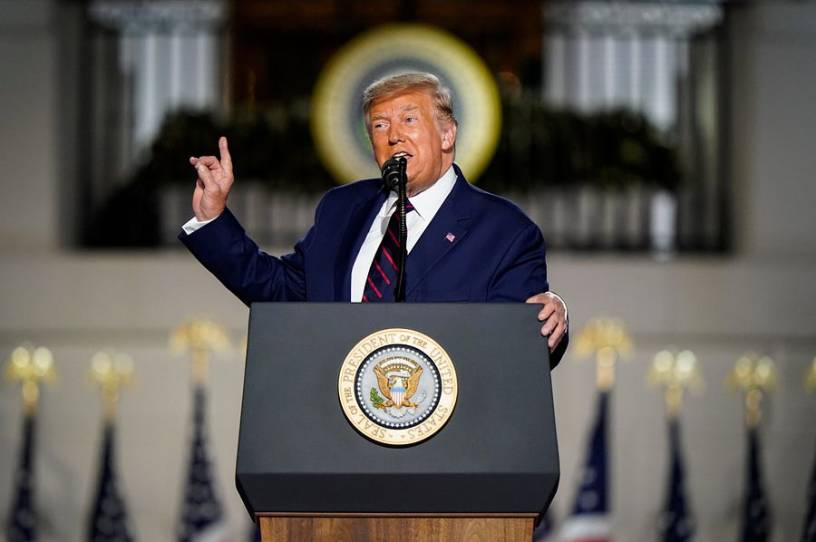 Campaign Quick Hits
Bouncy castle: Morning Consult and ABC had the first post-RNC convention polls. Morning Consult showed a small bump for Trump, as expected (and check out those undecided numbers—fewer than half as many in 2016 at this point). ABC showed no change in his favorability even among Republicans. 
Rate my convention: Trump had a conundrum heading into his Thursday night speech: Stay on script and show queasy Trump voters that he can muster the discipline to win this thing, or deliver another campaign-rally barn burner that will leave the media grasping their pearls but also draw in more eyeballs. In a surprising turn, he prioritized winning over ratings. Using initial Nielsen numbers for television viewership, 3 million fewer people tuned in for the president's speech than Vice President Joe Biden's from the week before. Combining all four nights, 76.3 million people watched the DNC compared with 63.6 million who tuned into the RNC. (The RNC claims that it made up the difference with streamers and had 147.9 million viewers with those platforms combined. But I haven't seen any reliable information on how organizers determined their online viewership.)
Money pit: The Trump campaign and RNC say they raised $76 million during their convention week. According to the Biden campaign and DNC, they came in just shy at $70 million during the previous week. As Kirsten Kukowski told me during our mop-up conversation last week, "both these candidates are going to have enough money to do whatever they need." So money at this point isn't telling us who can afford to buy more TV ads, it's telling us about voter enthusiasm, which means the number of individual donors probably matters more than the amount at this point. 
Party time, excellent: According to Gallup, "the Democratic advantage over the Republican Party, which was an unusually large 11-percentage-points in June, is now six points." For those interested, Democrats had a 3-point advantage in October 2016, an 8-point advantage in October 2008, and an 11-point advantage in October 2000.