Who Are the GOP Swing Voters?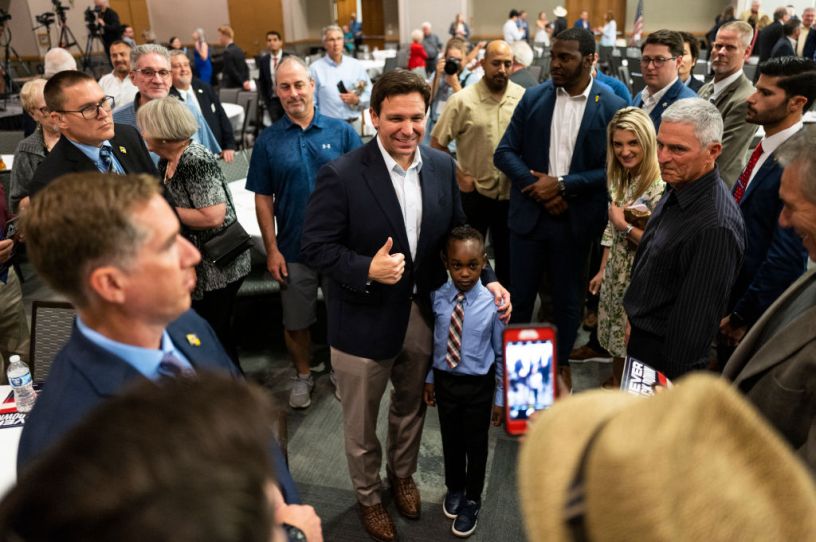 Florida Gov. Ron DeSantis poses for a photo during an Iowa GOP reception on May 13, 2023, in Cedar Rapids, Iowa. (Photo by Stephen Maturen/Getty Images)
Kettle Corn
Matthew Yglesias over at Slow Boring had a nice little piece on the ubiquity of "misinformation" across the political spectrum—even though misinformation is often more readily seen as a problem on the right:
Most people really are very poorly informed about politics and policy. A lot of campaign messaging is pretty misleading. A lot of media coverage is sloppy and propagandistic. It's also true that as a result of education polarization, over the past few cycles, Democrats have mostly done worse with relatively uninformed demographic groups (poor white people, working-class Hispanics) and better with relatively well-informed high-SES whites. This is to say that if you set out to find misinformation among people voting Republican, it's not hard to do so. But it's a totally unprincipled inquiry unless you take a systematic look at misinformation, in which case you'll see it's hardly confined to Republicans.
He highlights climate change as being the most obvious area for misinformation on the left, but I appreciate his specific callout to the Michael Brown shooting in Ferguson in 2014. David French and I have talked about the two DOJ reports that came out about that event as a prime example of counternarrative information simply not penetrating.
One report found that the Ferguson police department was motivated by revenue generation and that "many officers appear to see some residents, especially those who live in Ferguson's predominantly African American neighborhoods, less as constituents to be protected than as potential offenders and sources of revenue." It also found that "supervisors and leadership do too little to ensure that officers act in accordance with law and policy, and rarely respond meaningfully to civilian complaints of officer misconduct." Not great, Bob.