Walking the Line Between Campaigning and Obstruction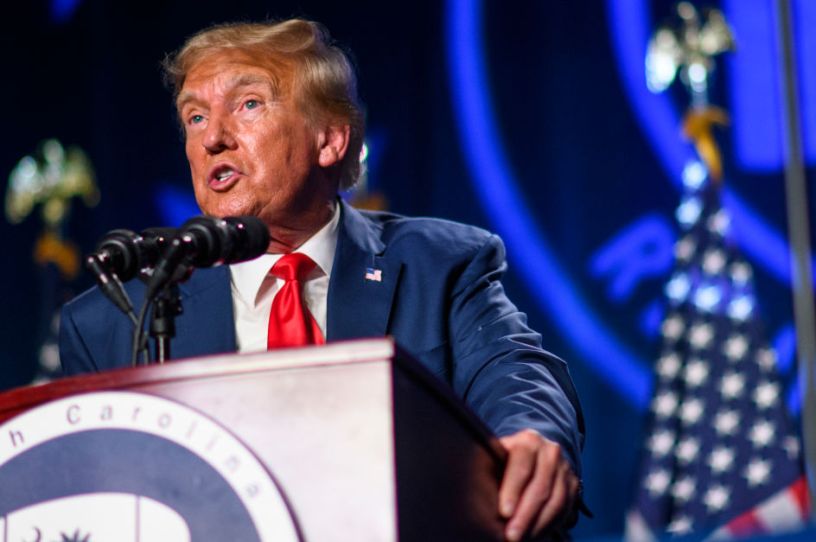 Former President Donald Trump speaks at the 56th Annual Silver Elephant Dinner hosted by the South Carolina Republican Party on August 5, 2023, in Columbia, South Carolina. (Photo by Melissa Sue Gerrits/Getty Images)
Welcome back to The Collision, where we're waiting on what could be the fourth criminal indictment Donald Trump will face this year. The New York Times and others are reading signs in Atlanta, including newly erected barriers and closed streets around the Fulton County courthouse. CNN reports that early next week District Attorney Fani Willis will likely present to a grand jury the findings of her lengthy investigation into Trump's efforts to overturn the 2020 presidential election results in Georgia.
Tampering and Obstruction, or Just Political Bloviating?
The potential for Donald Trump the candidate to interfere with Donald Trump the defendant's trial appears to already be on Jack Smith's mind. In the election interference case, the special counsel has moved for a protective order to prevent Trump from publicly disclosing some evidence of a sensitive nature that investigators gathered and have presented to defense counsel. The court filing cites some of Trump's recent commentary on his Truth Social page, including the ominous (but vague) proclamation, "IF YOU GO AFTER ME, I'M COMING AFTER YOU!"
"All the proposed order seeks to prevent is the improper dissemination or use of discovery materials, including to the public," prosecutors wrote in their filing. "Such a restriction is particularly important in this case because the defendant has previously issued public statements on social media regarding witnesses, judges, attorneys and others associated with legal matters pending against him."
Judge Tanya Chutkan will hold a hearing Friday to decide on the protective order, which Trump's attorneys argue should be narrower than what Smith has proposed. While we wait to see how Chutkan rules on the protective order, it's worth considering how Trump's political rhetoric on the trail—generally protected by the First Amendment, no matter how outrageous, uncivil, or riddled with falsehoods—could nevertheless put him at risk of more legal trouble.