House Republicans Want Joe Biden's Emails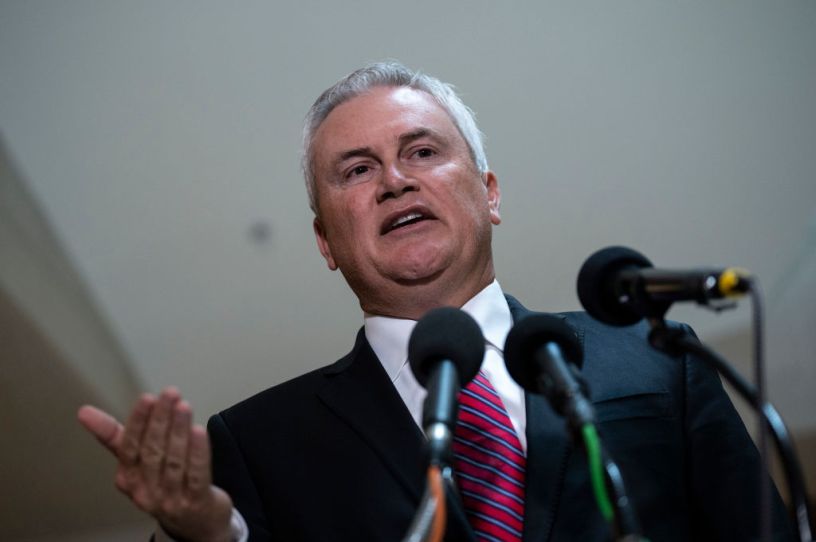 House Oversight Committee chairman Rep. James Comer speaks to reporters at the U.S. Capitol on June 20, 2023. (Photo by Drew Angerer/Getty Images)
Congress may still be in recess, but House Republicans' investigations into the Bidens—as well as their defense of Donald Trump against the "weaponization" of the criminal justice system—have kept pace with the news cycle.
Last week, Rep. James Comer, the chairman of the House Oversight Committee, sent a letter to the National Archives and Records Administration (NARA) asking for unredacted access to some of Joe Biden's old emails, many of which are already public.
Comer specifically highlighted one particular May 2016 email in his letter as "concerning" to the committee because Biden's son Hunter was copied on it. An attachment to that email included then-Vice President Joe Biden's schedule for the next day, and the email mentioned preparation for a morning phone call between him and "Pres Poroshenko"—Petro Poroshenko, who was then the president of Ukraine. The U.S. relationship with Ukraine was part of Joe Biden's portfolio of responsibilities during the Obama administration.
Hunter Biden's work email address was copied on the email, raising questions for Comer's committee, which is investigating influence peddling by the Biden family. Even though much of the information related to the emails is already public, an Oversight Committee aide says unredacted information from NARA—including attachments and personal information not found in the laptop files or public Freedom of Information Act (FOIA) releases—could provide more clarity.
You're out of free articles
Create an account to unlock 1 more articles