The Showdown Over the China Competition Bill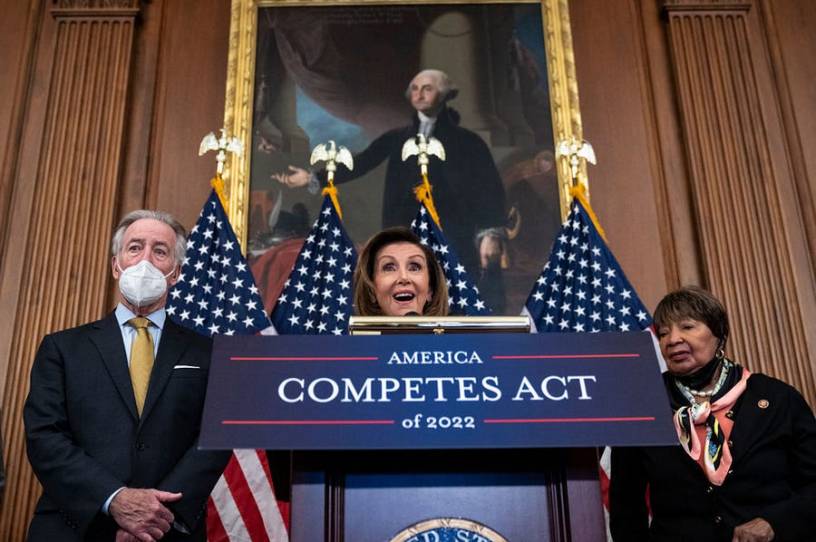 Good morning. Congress is back from a two-week recess, but the Wilt family is still stuck at home with coronavirus. I'll blame this edition's not-entirely-graceful writing on the brain fog (or as I accidentally but very aptly called it during a Dispatch-wide conference call last week, brain frog).
China Competition Bill on Ice
For more than a year, Congress has been debating a major package to boost U.S. semiconductor chip production and scientific research. The bill, which has passed in two different forms in the House and Senate, is broadly intended to heighten American competitiveness. Members of the conference committee negotiating the measure have struggled to rally around a compromise version—and now they face new headwinds.
With Senate Democrats now pulling together an unrelated drug pricing and climate bill they could advance on party lines, Senate GOP Leader Mitch McConnell issued an ultimatum at the end of June: Republicans won't work on the bipartisan China competition bill as long as Democrats are working on their partisan budget reconciliation package. This has translated into a real logjam, with Senate Republicans canceling meetings and putting a hold on efforts to rectify differences with the House.
Disagreements in the talks already had various interest groups searching for lifeboat bills—like spending packages, or the annual defense authorization bill—to attach their priorities to before the 117th Congress ends. But McConnell's ultimatum made those concerns more concrete and left Democratic aides weighing how to circumvent the stalemate and advance COMPETES Act items.