How to Solve a Problem Like the Problem Solvers Caucus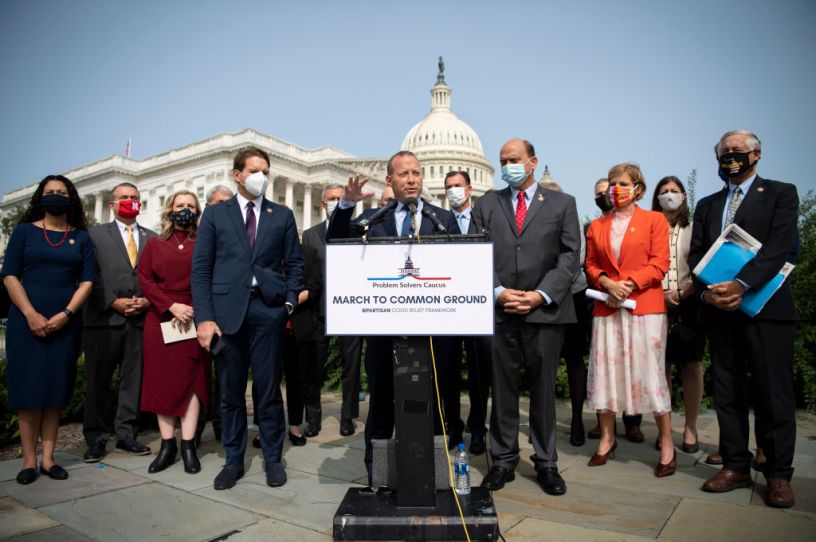 Rep. Josh Gottheimer, D-N.J., joined by other members of the Problem Solvers Caucus, unveils the March to Common Ground, a COVID-19 relief package, at the House Triangle on Tuesday, Sept. 15, 2020. (Photo by Caroline Brehman/CQ-Roll Call, Inc via Getty Images)
But First …
In the Book of Judges, we read that, facing a ruthless invasion, "the Israelites prepared shelters for themselves in mountain clefts, caves, and strongholds." There were no bomb shelters then. The Israelites planted their crops, and the invaders "camped on the land and ruined the crops all the way to Gaza … like swarms of locusts." In our time, the Israelis are people who want peace and trade but are surrounded by people who want war and the spoils of war, and who want, above all, the extermination of the Jewish state.
This column was written before the sneak attack on Israel from Gaza over the weekend, and I will have more to say about the situation in the coming days. For now, the thing that is most on my mind is that people who take children as hostages and then parade them through the streets as spoils of war are not soldiers and do not deserve to be treated as such. Whatever legitimate grievances the Palestinians might have had, their cause today is one that is covered in shame that will never be washed away. For now, courage to our friends—and with the United States increasingly under the sway of people who do not know how to take their own side in a fight, Israel is going to need all the friends she can get.
Jackassobins
I get why Republicans in the so-called Problem Solvers' Caucus are big mad at the Democratic caucus members who did not cross party lines to keep Kevin McCarthy from being deposed as speaker of the House by self-serving beady-eyed cretin Rep. Matt Gaetz. Gaetz, as it turned out, had only a handful of Republicans on his side: Of the 216 votes to give McCarthy the boot, only eight came from Republicans, while the remaining 200-odd votes came from Democrats—a very strange way of punishing McCarthy for being too bipartisan, which is what he notionally stood accused of. Gaetz and his brand of performative nonsense politics is a problem that could have been, if not solved, then very much improved by responding to his imbecility with a crushing political rejection. Instead, Democrats gave him a bare victory, ensuring that the problem gets worse rather than better.
Some "problem solvers."