Politics of Principle, Politics of Power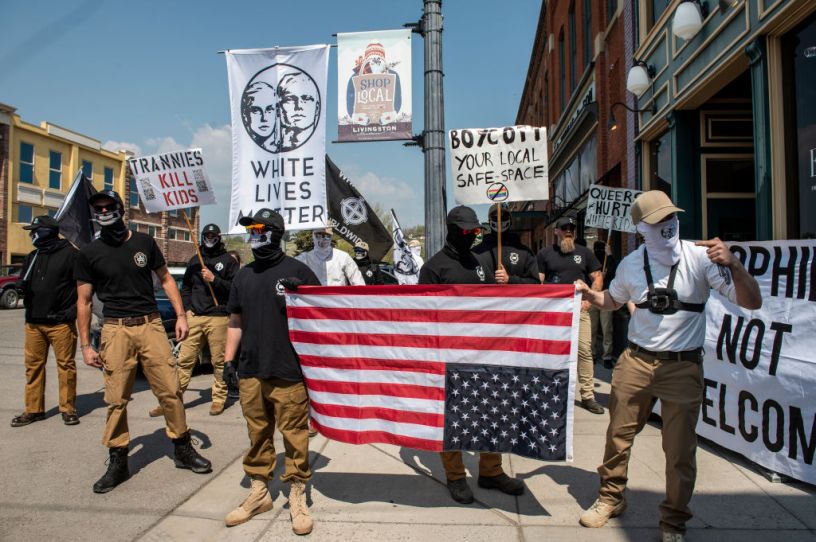 People representing various right-wing white nationalist groups protest against a Drag Story Hour event outside Wheatgrass Books store on May 20, 2023 in Livingston, Montana. (Photo by William Campbell/Getty Images)
Bonus Wanderland—again!
Identity Politics for White People
Here is a sobering fact worth keeping in mind between now and November 2024: If only the votes of white Americans were counted, there wouldn't have been a single Democratic president since Lyndon Johnson. We are coming up on 60 years since the last time the majority of white Americans pulled the "D" lever in a presidential election.
Racial voting patterns can shift fast, shift hard, and stay shifted. Take the most dramatic example from American history thus far: In the years after the Civil War, African Americans were among the most reliable voters for Republican candidates—for the Party of Lincoln, which is what the GOP used to be before it decided it would prefer to be the party of gap-toothed Georgia neo-secessionists—right up until the day they weren't.
That day was Tuesday, November 3, 1936. Black voters had stuck with Republicans even through the early days of the Great Depression and Herbert Hoover's seemingly callous response to it. (Hoover was, in many ways, unfairly maligned, but that is a discussion for another day.) FDR got elected the first time with relatively few black votes. But once FDR was in, African Americans liked his program, in no small part because the black workforce—still heavily concentrated in agriculture and agriculture-adjacent work at that time—had been suffering from what we might call the Greater Depression long before the rest of the country felt the downturn. Republicans had by that point put civil rights and the interests of their black constituents on the back burner, and black leaders bitterly resented the fact that some Republicans (perhaps including the Hoover campaign; the details remain obscure) apparently had made common cause with the Ku Klux Klan and Klan-aligned political bosses in the 1928 race between Herbert Hoover and Al Smith. Smith was a Roman Catholic, which put him squarely in the sights of the Klan, a virulently anti-Catholic group as much as a racist one.