The Strangeness of Psychotic Jew-Hatred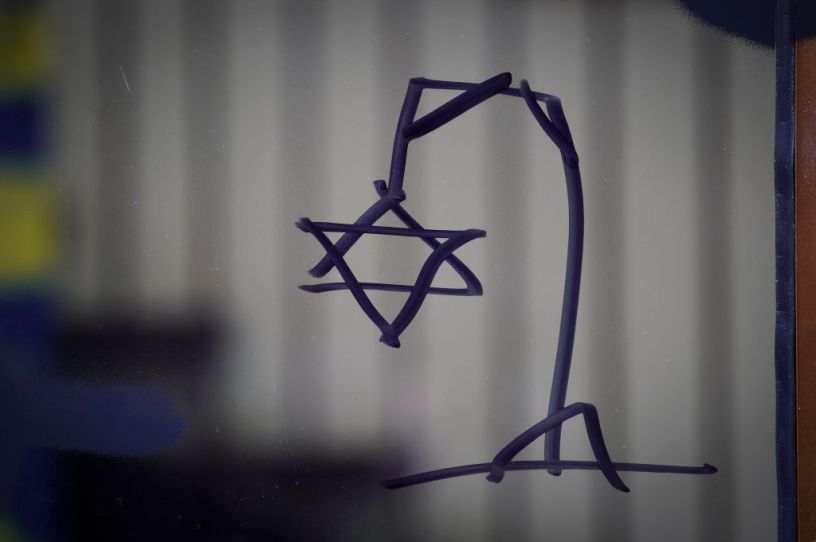 Antisemtic graffiti on the window of an office in Warsaw, Poland. (Photo by Jaap Arriens/NurPhoto/Getty Images.)
Antisemitism is a strange prejudice. As the great liberal economist Ludwig von Mises pointed out, most common bigotry—for example, anti-black racism in the United States—is based upon some supposed fault or deficiency in the despised population. Yet antisemites scorn Jews for "vices" that look a lot like virtues: that they are intelligent and pursue education, that they are unusually successful in business and particularly in prestigious businesses such as finance and entertainment, that they have a strong sense of communal responsibility, that they are cosmopolitan, etc.
Of course it is true that, as G. K. Chesterton observed, virtues gone mad can be more dangerous than vices, and the poison is in the dosage: The cultivation of the mind can lead to narrow intellectualism, community-mindedness can become clannishness, the pursuit of success in business can lead to avarice or dishonesty, and these undesirable traits are attributed to Jews by Jew-haters. But Jews are an all-purpose villain, fit for any occasion: American antisemites hated Jews and denounced them as socialists in the 1930s even as European antisemites hated Jews and denounced them as capitalists. The Lindberghers hated Jews for being communists, and the Marxists hated Jews for not being communists. Jew-hatred can present as a progressive psychosis—as we have seen in the late careers of several figures on the right and left—but it is in its milder, less feverish expression that it remains astonishingly common.
A recent survey conducted by the Anti-Defamation League and written up in the Washington Post contains some very surprising findings—surprising not because antisemitic beliefs persist but because they are so widespread according to self-reporting. (About the ADL as an organization I have deep reservations, but I do not see any reason to doubt the honesty of the survey.) Some 70 percent of Americans endorsed the belief that Jews "stick together more than other Americans." Fifty-three percent said that Jews give other Jews preferential treatment in hiring, and 39 percent reported a belief that American Jews are more loyal to Israel than to the United States. A third of Americans affirmed that Jews "do not share my values," while 1 in 5 Americans say that Jews have too much power in the United States and are more willing than members of other groups to use dishonest means to pursue their ends. A quarter of Americans claimed that Jews have too much control over Wall Street.
These are, of course, the "greatest hits" of antisemitism, and you can find such sentiments being voiced over the years by everybody from right-wing knuckle-draggers to literary progressives such as Gore Vidal to every other sophomoric lefty activist on our college campuses.
Get every newsletter and all of The Dispatch. Support quality, fact-based journalism.
Start Your Free Trial
ALREADY A PAID SUBSCRIBER? SIGN IN