The War on Poets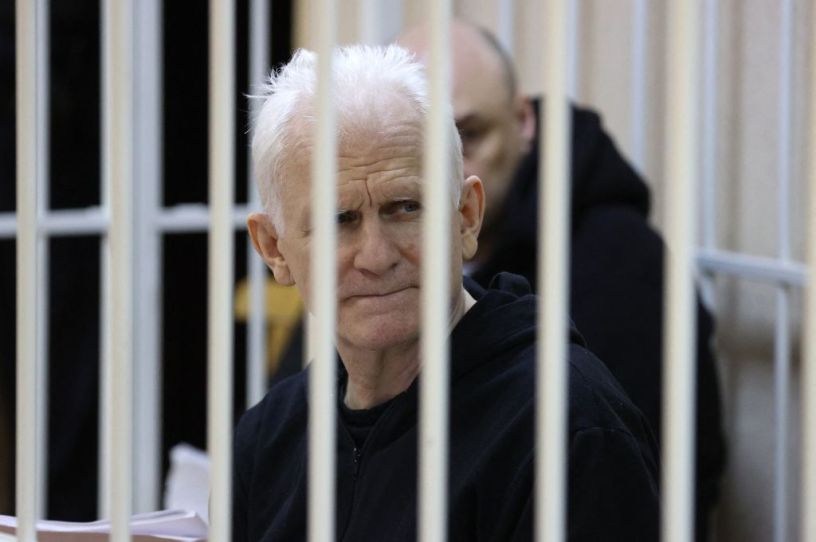 Ales Bialiatski is seen in the defendants' cage in the courtroom at the start of a hearing in Minsk on January 5, 2023. Photo by Vitaly Pivovarchik/Belta/AFP/Getty Images.)
The "man of letters" is a species that today thrives more readily in European soil than in the United States (where there is much more competition from business and entertainment) and Ales Bialiatski is one such specimen, a scholar of Belarusian literature and language, a founder of writers' associations, a former director of the Maksim Bahdanovič Literary Museum in Minsk. He is also a nationalist in the happier sense of that often-unhappy word, having been a secret organizer of the Belarusian independence movement during the Soviet era, and he boasts of having been the first to show up at city hall in Minsk (where he was a city councilman) with a pre-Soviet Belarussian flag, the first one to be flown from the municipal building in the capital announcing the impending independence of the republic, which was realized two weeks later. Ten years ago, he was awarded the Václav Havel Human Rights Prize, and last year it was the Nobel Peace Prize.
Of course, they've got him locked up in a dungeon.
The official charge is financial corruption—he was just given a 10-year sentence for "cash smuggling"—but Bialiatski's crime is his opposition to the brutal government of Alexander Lukashenko, who became Belarus' first president in 1994 and who has held the supremacy ever since, and who is responsible for Belarus' unhappy epithet: "Europe's Last Dictatorship." Lukashenko presents himself as a nationalist, too, but he is a funny kind of nationalist—one who takes his orders from Moscow and who has at times floated the idea of formal annexation by Russia. (Russia and Belarus already are joined in a "Union State" under the terms of which Belarus enjoys notional independence from and, wink-wink, equality with Russia.) Bialiatski speaks Belarusian, and the museum he once managed is dedicated to the founder of modern Belarusian literature—and he was forced out of the museum directorship by Lukashenko, who prefers and promotes Russian.
The language issue has been prominent in the Bialiatski matter. The writer-activist himself complained in an earlier proceeding that he, a Belarusian-speaking man in Belarus, was tried by a court that refused to conduct any business in that language, even though it enjoys official status. "The situation with the language used in court appears to be extraordinary," he wrote to his judges. "I remind you that the Belarusian language is a state language, and you, as state officials, should know two state languages, including Belarusian, and not struggle to say two words. Therefore, you are obliged to speak, accordingly, in Belarusian with Belarusian-speaking citizens. For example, as provided for by the Law 'On Appeals of Citizens', if you write in Belarusian, any official department will respond to you in Belarusian. This put me in an unequal position with the prosecution. I was not given the opportunity to explain my position thoroughly and in detail, to dispute the unjust and senseless accusation." The scene there was reminiscent of another writer, one whose achievement was such that he won for himself an eponymous adjective here applicable: Kafkaesque.
Get unlimited access to our 10 daily and weekly newsletters, Dispatch Live broadcasts, article comments and community events.
Get Started
ALREADY A PAID SUBSCRIBER? SIGN IN