I Flew Back to the U.S. From France. I Was Never Tested for Coronavirus.
One man's journey.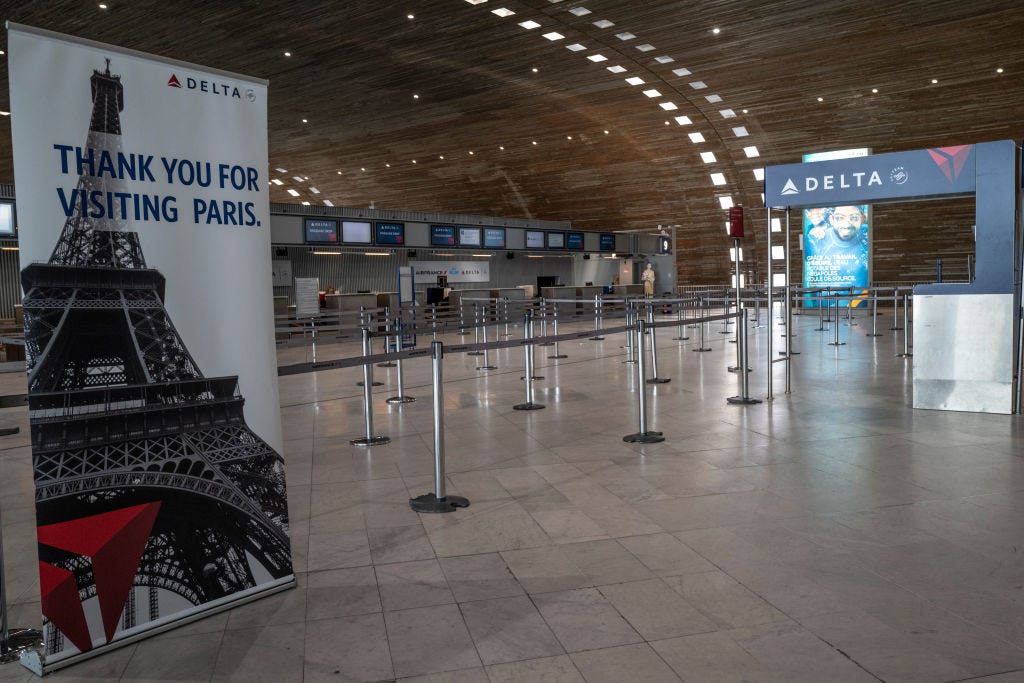 Like many other Americans abroad, I took notice when the State Department advised us on March 19 to return to the United States due to the coronavirus pandemic. OK, it was actually my mom who noticed, and she insisted that I pay attention, too. So, my semester abroad in France was cut short, and early the next morning, I purchased a ticket for a flight to America for the following day. 
I had spent the previous few days confined to my apartment, able to leave only if I had my passport and a properly filled-out form explaining what I was doing—necessary even for something like jogging, which tends to be a bit awkward with all that paperwork in hand. The form I had to fill out every time I left is pictured below, and includes options for essential business, purchasing necessities, health, family or assisting those in need, individual exercise, and walking pets.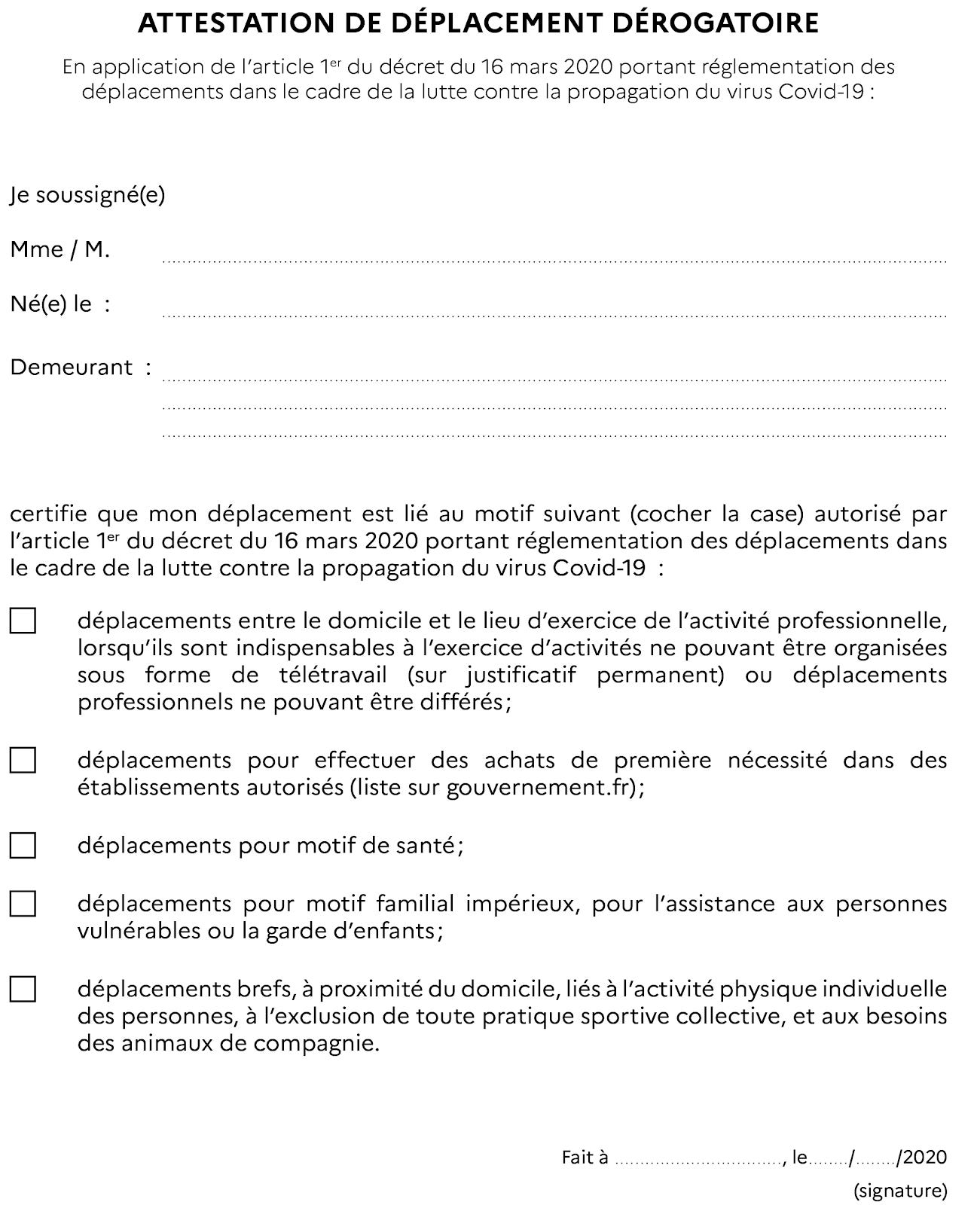 And so when I began my journey back to the United States, I was anticipating strict precautions every step of the way. Instead, and unexpectedly, I faced little in the way of screening. I took a train into Paris and wasn't screened at all. I walked through security and customs at the airport; no coronavirus screening. Airport employees all wore masks and gloves, and the planes themselves were being cleaned thoroughly between flights—though that didn't assure some passengers, who managed to slow the boarding process on my flight back by half an hour while attempting to scrub their seats down even more. Everyone was so on edge that clearing my throat during dinner earned me several looks of shock and terror.
My biggest surprise, however, came when I returned stateside. I'd read stories about airport coronavirus screenings, which promised thermometers and emergency staff watchfully evaluating travelers, and heard President Trump guarantee returning Americans were being "very heavily tested." However, that's not what happened when I arrived in Atlanta. 
Before we arrived at Hartsfield-Jackson Atlanta International Airport—one of the 13 airports all travelers returning from Europe, China, and Iran must go through for screening—the captain informed the cabin that upon landing we'd have to stay seated and fill out some paperwork. I had an hour and a half before my connecting flight left and assumed I had plenty of time to make it. I was mistaken. EMS workers boarded the plane dressed in protective outfits just shy of hazmat suits—though it made sense considering that several screeners had tested positive for coronavirus already—and from the time they passed out the forms until their collection, we sat on the plane for the full hour and a half, forcing me to catch a later connecting flight as mine had already left. 
The questions on the form were general (where we traveled to, dates, and if we felt any symptoms), and once everyone completed them the workers came around to collect and briefly review the forms for each passenger to decide if they needed more screening or not. Passengers who required further screening had their temperatures taken and were removed from the plane. The rest of us who were left on the plane were given packets of information about how to prevent spreading the virus—including a 14-day self-quarantine—and different precautions to take.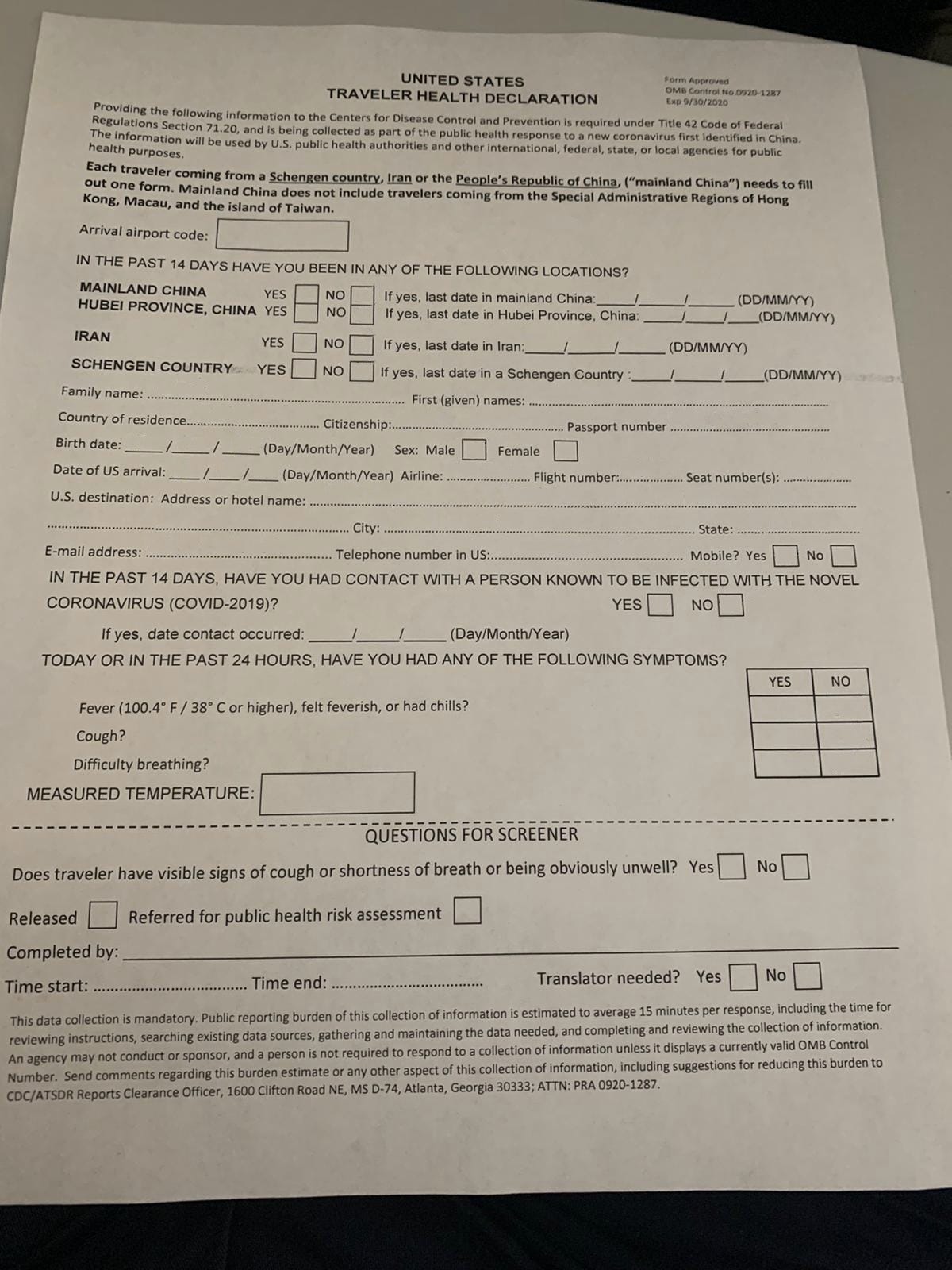 I experienced some culture shock returning from France, where I was under lockdown for almost a week before leaving, to Florida, where only a few counties have taken extreme protective measures. In France, all nonessential businesses were closed, including restaurants. Florida Gov. Ron DeSantis has not issued any statewide stay-at-home order, leaving the decision to counties. The restaurants in Lee County, where I live, are still operating, albeit exclusively through delivery, drive-thru, and takeout, and there has been no order closing nonessential businesses. With the exception of beach closures, life carries on almost normally. Or so I hear; I'm still in self-quarantine.
Dominic Dent is studying business management at Florida Gulf Coast University.
Photograph of the Paris Charles de Gaulle Airport by Veronique de Viguerie/Getty Images.
Clarification, April 1, 2020: The original headline on the piece said the author had not been screened for coronavirus after arriving from France. While he did not have his temperature taken, he did fill out a questionnaire.