Is NATO Preparing for a New Mission in Africa?
China and Russia are seeking to gain influence in the region. The West should consider its strategy.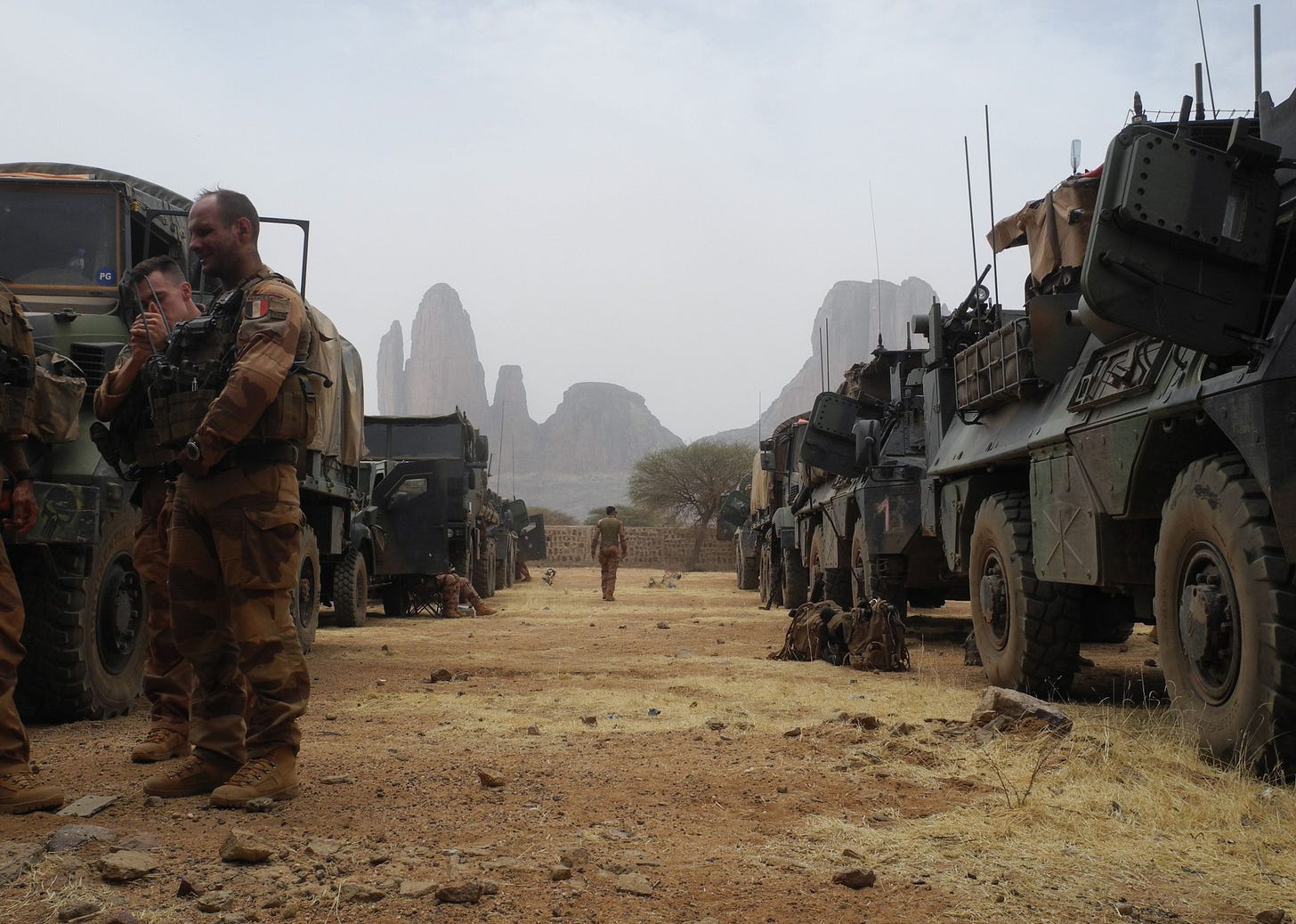 China and, more recently, Russia have taken renewed interest in Africa. Given that countering their creeping influence is one of the announced goals of the Trump administration, a new push from NATO to expand its role in Africa deserves a closer look.
China's Belt and Road Initiative (BRI), an effort to build a global infrastructure network with the "Middle Kingdom" as its central hub, has managed to get all but a handful of African states to sign on since 2013. Yet, the initiative will also reward China's authoritarian friends in Africa. New roads to the interior will make it easier for Chinese mining companies to operate and authoritarians to put down tin-pot rebels. China is now the largest trading partner for most African countries. Russia is returning to Africa in a way not seen since the end of the Cold War, rebuilding Cold War era defense ties and seeking new areas to gain leverage over the West.
In late September 2019, a delegation from the NATO Parliamentary Assembly visited the African Union's headquarters in Addis Ababa. It's an impressive facility, built and financed by China. Though the Chinese government received much praise for funding the project, it later had to deny reports that the building's digital communications were compromised by a Chinese spy system. 
The Addis Ababa meeting has been followed by other interactions in recent months. Including a first of its kind NATO-AU meeting in December where the two organizations agreed to cooperate on counterterrorism. The tempo of those interactions would have likely continued if not for the COVID-19 pandemic. European countries worry rightly that greater instability in the Sahel region will merely mean more refugees packed on rickety boats across the Mediterranean. It will also mean an increased terrorist threat to Europe in the long-term.
NATO's Secretary General Jens Stoltenberg has already been on the record stating that NATO allies would likely support joining France's counterinsurgency effort, Operation Barkhane in the Sahel, which includes Burkina Faso, Chad, Mali, Mauritania, and Niger. The conflict, which started in 2014, has proved to be the bloodiest in recent French history. An existing EU counterinsurgency mission in the Sahel has already involved a number of NATO members, including the U.K., Spain, Denmark, and Estonia, and while the U.S. has long played a limited and supporting role to this operation, the death of four U.S. special forces soldiers in a gun battle in Niger in 2017 brought the issue to domestic attention.
Yet, this renewed interest is about more than just terrorism.
"We want to work quickly to build new ties with Africa," said Miranda Calha, the former deputy of the Assembly of the Portuguese Republic and member of NATO's Parliamentary Assembly, "I think concerns about Russian and other countries such as China are driving this renewed interest."
NATO's most famed, or infamous, mission in Africa was the Libya intervention of 2011. Originally meant as a limited mission to protect civilians, it quickly changed to removing Muammar Gaddafi, who had ruled Libya for 42 years. France's then-President Nicolas Sarkozy led-NATO's charge in Libya with President Obama agreeing only to "lead from behind." That intervention, designed to achieve regional stability, in fact helped destabilize the entire Sahel region and France's ongoing war there.
French President Emmanuel Macron is aware of this history and has criticized NATO's 2011 intervention in Libya in public remarks during a 2018 visit to Tunisia. That same year, Tunisia reportedly turned down an opportunity to host a NATO center in the town of Gabes. Yet, others feel differently about NATO.
"We already have ongoing international training missions in our country in Southern Tunisia, and Tunisia could host a NATO training mission," said Imen Ben Mohamed, a Tunisian parliamentary, at the 2018 NATO Summit told the author. She further stressed that sovereignty of the host nation must always be respected. 
NATO-African Union ties date to 2005, when NATO launched its first African mission designed to support peace-keeping efforts to end the Darfur conflict. NATO also offered support to the AU peace-keeping mission in Somalia which began in 2007. Since then ties have largely proceeded ad-hoc with focus on military technical cooperation
The southern flank
France, Portugal, Spain, and Italy have long sought for NATO to play a larger role in what it refers to as the challenge of the "southern flank," a catchall term for Africa and the Middle East, for these countries' history and geography have long involved them in African security issues.
Other members of NATO argue the focus should be on the "eastern flank"—a euphemism for Russia. An Africa-centered resolution at the NATO Parliamentary Assembly in London was opposed by the German delegation, though it eventually passed.
The United States in recent years has begun to side increasingly with the southern flank view that unless NATO increasingly goes out of its area, it will go out of business. Witness the Trump administration's successful effort to get NATO to join the global anti-ISIL coalition in 2017 (only to undercut this victory by announcing a unilateral withdrawal from Syria in 2019).
Eastern European countries concerned about Russia should note that "eastern flank" vs. "southern flank" isn't necessarily a binary choice. Africa's importance to Moscow's forewing policy has long been understated. Months after the last Soviet soldier crossed the Hairatan bridge from Afghanistan back into the Soviet Union in February 1989, the collapsing Soviet Union remained committed to Africa. As late as December 1989, the Soviet Union maintained advisers down to the brigade level involved in combat operations in the Angolan Civil War.
The most recent NATO Parliamentary Assembly expressed concern with Russia's role in Libya. In truth, Russia is seeking an expanded role across the entire continent. Moscow planned to sell some $4 billion in weapons in Africa in 2019. Russian influence has taken a number of forms, from helping Egypt with its nuclear ambitions to a French language children's cartoon featuring a Russian bear charging across the globe to rescue a harried African lion. Late last year the Central African Republic (CAR) announced it was considering hosting a Russian military base. 
Elsewhere Russian proxies such as the Wagner Group have landed lucrative military training contracts. The Wagner Group is a private military contracting agency with close ties to the Kremlin. Wagner group contractors have been deployed to Libya, Mozambique, and Madagascar—all states which the Soviet Union had close ties with at various stages during the Cold War.
One key but little-noticed Russian lobbying effort in Africa has involved Kosovo, a country forged in part by NATO's 1999 bombing campaign of Yugoslavia. The country's independence has long angered Moscow, which supports Serbia's claim to the territory and has long grappled with a host of internal independence movements of its own.
Kosovo's independence was recognized in 2008 by the United States and soon followed by countries around the world. Yet, since 2017 some 15 countries outside of Europe have derecognized Kosovo. Eight of them have been in Africa. Most recently, Sierra Leone announced on March 2 that it was derecognizing Kosovo.
NATO believes the alliance has more to offer African militaries than their Russian counterparts. NATO bureaucrats often speak fondly of the organization's success in one European country that could serve as a model for its work in Africa: Macedonia, where it forged a multiethnic and non-sectarian force. The country went from Balkan hotspot to NATO ally in less than two decades. In 2001, Macedonia was on the brink of an all-out civil war with a rebel force fighting the central government backed by NATO. In 2019, it rebranded as North Macedonia to appease Greece and joined NATO. Perhaps NATO can play a similar supportive role to the professionalization of armies across Africa.
That may well be the case and Russia's new role in Africa is worrying. But, the lesson of Macedonia is just as important as the failure in Libya, which should not be forgotten.
Joseph Hammond is a journalist and former Fulbright fellow. He served as Cairo correspondent for Radio Free Europe in 2011 during the Arab Spring. In 2013, Hammond embedded with M23 rebels in the Eastern Congo becoming one of the last journalists to do so before that group's rout by United Nations forces.  Hammond's work has been published by The Economist, Forbes, Slate, Christian Science Monitor, The Washington Examiner, U.S. News and World Report, The National Interest, and other publications.  Follow him on Twitter @TheJosephH.
Photograph of French military in Mali by Daphne Benoit/AFP/Getty Images.