Kansas Republicans Face a Stark Choice in Senate Primary
It's bomb-throwing Kris Kobach against the electable Roger Marshall.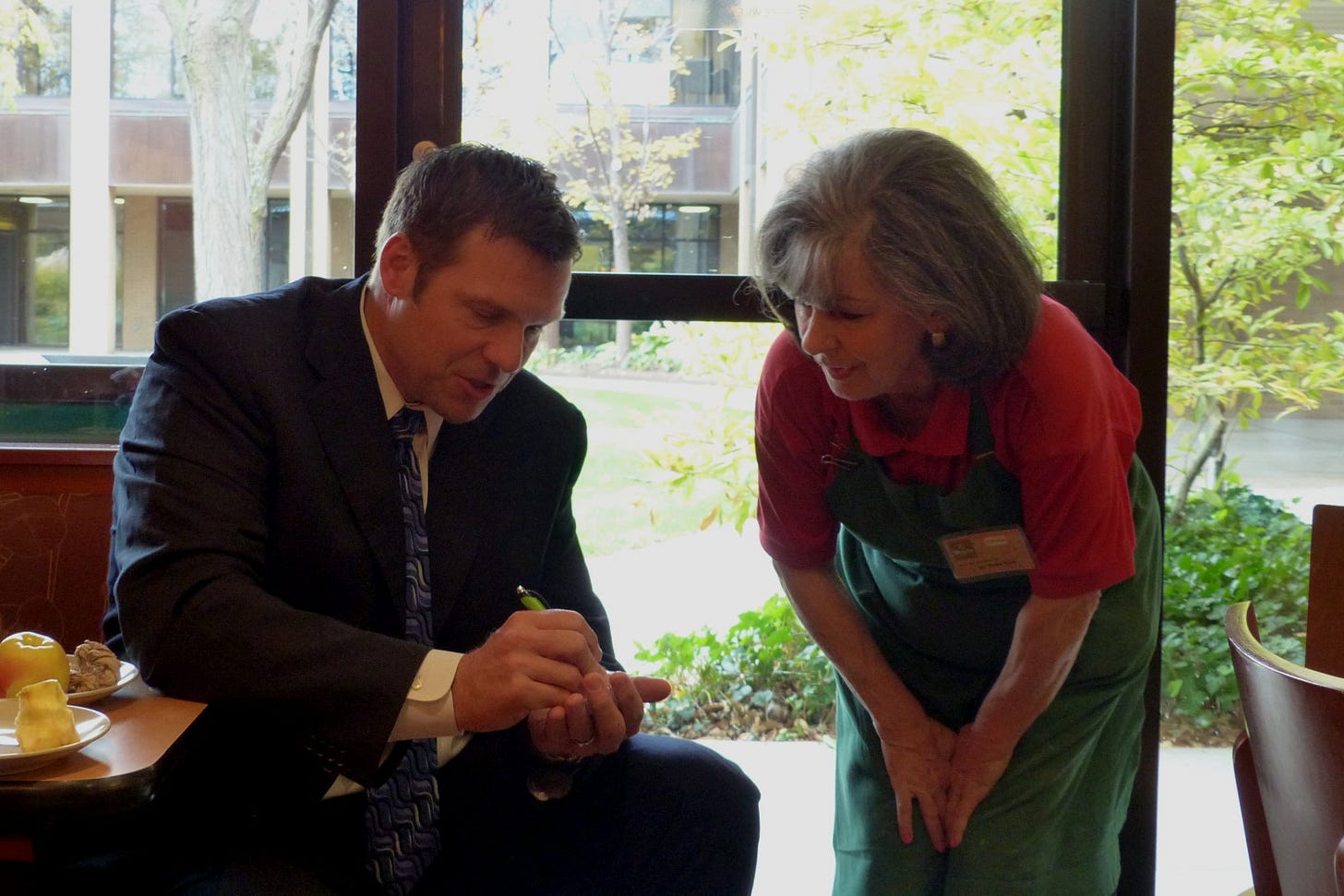 Iowa Democrats are grinding their molars over their choices for the upcoming caucuses. Do they side with an ideologically pure candidate like Bernie Sanders, even though they fear that Donald Trump may flog him in the general election? Or do they make the smart play with Joe Biden or one of the others?
Well, just catty-corner to Iowa sits the state of Kansas (the one that resembles a brownie pan with a bite out of the corner, for those of you on the coasts) and a similar dilemma is approaching for Republicans regarding retiring Sen. Pat Roberts' seat.
Do Kansas Republican voters pick the most conservative candidate they know, even though polls show he would lose in the general election, possibly risking the Republican majority in the Senate? Or do they pick a relative newcomer who should win in November?
That well-known candidate is former Kansas Secretary of State Kris Kobach, who makes the rounds on Fox News and writes for Breitbart, usually discussing immigration. The latter is Rep. Roger Marshall, elected in 2016 from Kansas's "Big First" Congressional District, the home Bob Dole, and both of Kansas's current Senators.
Current polls show Kobach with a 10-15 point lead on Marshall—but with as many as 40 per of Republicans undecided. And there are three other candidates in the primary who could split up any anti-Kobach voting block.
Anti-Kobach?
Yes, well, Kobach has a bit of a personality problem with many Kansas voters.
Kobach prides himself as a strict conservative. He pushes hard on his pet issues of increased voter ID laws and building a border wall with Mexico. The Harvard, Oxford, and Yale Law School grad comes across as knowledgeable on most issues and is a strong debater and public speaker.
He is also a bit of a bomb-thrower. Kobach, not unlike Donald Trump, enjoys appealing to his Republican base—especially as a TV pundit and conservative writer. Of course, those who are not the intended audience notice, and they brand him as an out-of-control right-winger.
Some of Kobach's actions haven't helped. His push to clean the voting rolls of double voters ended up in very few convictions. He was ordered to take remedial civil procedure classes after failing to follow a court's orders regarding discovery at trial. He has called the ACLU and League of Women Voters, "Communists." His general, lifelong efforts at stopping illegal voting and immigration have led to opponents—unfairly or not— labeling him a racist.
Kobach seems to relish the slings and arrows of his opponents. To show just how pro-gun he was while running for governor in 2018, his go-to parade float was a flag-wrapped Jeep with a replica .50 caliber machine gun mounted on the back.
Will these kinds of moves get him the Republican nomination in Kansas? Arguably. His state-wide victory as secretary of state and party nomination as governor are proof that maybe it got him to where he is today.
But Kansas voters kicked Kobach to the curb in the 2018 general election for governor. Republicans like former Gov. Bill Graves and former Sen. Nancy Kassebaum even abandoned him and endorsed his Democrat opponent. Voters in the urban and suburban areas of the state jumped on Democrat Laura Kelly's bandwagon as well, and left Kobach with a sobering 48-43% loss. 
But it was much of the aftermath that left Republican leaders in Kansas and nationally angry with Kobach. His campaign relied on his running-mate personally financing over 60 percent of his total fund-raising. The Kansas City Star's campaign post-mortems noted that Kobach had poor grass-roots efforts and a negligible get out the vote plan. His main TV advertising push came after early voting had already started.
Yet the confident Kobach was seen touring the governor's office just weeks before the election.
Add all of this to internal polls that show Kobach would lose to a Democratic opponent for Senate and one can easily see why Mitch McConnell and many others are panicked by a Kobach campaign. 
In the most recent Q3 FEC reports, Kobach raised a measly $250,000—while opponent Rep. Roger Marshall doubled that amount—and Kobach had the lowest cash on hand of any of the other major candidates.
Then there are the little miscues by Kobach: Misspelled name on his initial campaign filing. Chastised for potentially illegal fundraising from his "We Build The Wall" project. News that someone left a gun in a filing cabinet when Kobach moved out of his secretary of state office.
A particularly crazy episode came when Kobach was being considered for President Trump's "immigration czar." Kobach came up with a list of demands like a kid picking one of everything from the shelves at the toy store. Government jets, 24/7 Oval Office access, weekends off. He didn't get the gig.
You might be wondering, Why on earth would Kansans want to try again with this guy? (Or to put it another way, "What's the Matter with Kansas … Republicans?")
One part is simply name ID. He has run for offices in Kansas since 1999 when he was a city council member. He was the GOP nominee for the 2004 3rd District congressional seat. He was chairman of the state Republican Party. You see him on cable news. He was photographed at the front door of the White House with President Trump. 
(Trump endorsed Kobach on the day before the 2018 gubernatorial primary. It is unknown if he will make a move in the U.S. Senate race.)
Kansans may not have heard of all of the other candidates, but they've heard of Kris Kobach. And much of the grousing about his stances on immigration or guns fall flat for Republicans who witness overreaction by Democrats anytime they look at Twitter or MSNBC.
But, the issue of actually "winning" may be starting to seep in.
National Republicans have said they would actually work against a Kobach candidacy. And with the feints by Secretary of State Mike Pompeo about coming back to run, many voters hoped that they wouldn't have to deal with Kobach anyway.
But with Pompeo's decision not to run, many see the campaign as just now beginning. Candidates Marshall and state Senate President Susan Wagle have both reported hockey-stick like increases in contributions. Marshall reported receiving $250K in the three days after Pompeo's decision.  
A week later, Kansas Republican icon Bob Dole endorsed Marshall for the Senate seat. Alas, Dole also endorsed Kobach's chief opponent in the 2018 governor's race. But maybe Kansas Republicans will take that to heart.
So this means Marshall wins, Kobach loses and Republicans keep the Senate seat, right?
Ah, if it were all that easy.
For starters, note that Marshall has his own problems,  beginning with the rest of the field.
Head-to-head, he might have a decent shot of taking out Kobach. But there is at least one other significant candidate in Susan Wagle. While not a household name, she has spent more than 20 years in the Capitol in Topeka, and is generally thought of as an intelligent and stalwart Repbulican. And many see her as a one who could bring in those suburban soccer-moms who have defected to the anti-Trump side.
Two other candidates will likely peel off a few more non-Kobach votes, which is significant to vote-counters who saw Kobach squeak by in the 2018 Governor's primary by 343 votes.
While Marshall has the advantage of a heavy Republican base in his central and western Kansas district, he has only been in office for one full term. In the 2016 primary, he took out incumbent Rep. Tim Huelskamp who had been a thorn in the side of the GOP House leadership and had lost his seat on the Ag Committee.
But Marshall did not endear himself to the powerful Club for Growth which backed Huelskamp. Since then, the CFG has hinted that they will oppose Marshall's Senate candidacy.
While Marshall has made every effort in the past six months to establish his full and undying support to President Trump's agenda, it will be difficult for him to ever get to the right of Kobach. And if so, for voters, where is the differentiation?
Which leads us back to "electability." For Marshall and others, they'd point to the polls that say Kobach will lose to Democrat state Sen. Barbara Bollier in the general election. 
Bollier, a former Republican who switched parties to support Governor Kelly in 2018 is seen as somewhat of a moderate who will oppose Trump.
Kobach eagerly declares that Kansans have elected Democrats in the past for governor, but have not elected a Democrat to the U.S. Senate since 1932.
And how likely are Kansas voters to split the ticket on the ballot in a presidential year? Is there a single poll or projection that doesn't give Kansas to Trump in 2020? Would those same voters decide they want Trump, but also want a Democratic senator from their state to oppose Trump? Of course it could happen, but does it seem likely on its face?
One can argue that Marshall needs more than simply "Not-Kobach" to win the primary.
What of state Senator Wagle? If Marshall and Kobach—and especially their third-party proxies—spend the summer bashing each other over the head, could Wagle shoot the gap? Nebraska Senator Deb Fischer made that kind of move in her 2012 GOP Primary against two well established opponents (along with an endorsement from Sarah Palin). Could lightning strike twice on the plains?
A source familiar with Mitch McConnell's thinking said that the national Republicans plan to do their full due-diligence. They will look at all of the candidates and consider their options on who they think has the best opportunity to win in Kansas.
Or, and hold your breath on this one, how about a Mike Pompeo candidacy?
Pompeo did not shut the door 100 percent. He left a final, "you never really know," when announcing his decision. That crack in the door could be kicked in for a last-minute decision.
The dominoes would have to be lined up just right, but with the pimary not until August, Pompeo could still get in by June. It could still happen … well in-theory anyway.
That makes it five-some months to keep track of things in the Sunflower State. Watch the candidates. Watch the issues. Watch the fundraising. Watch for any separation.
And maybe Iowa will give an indication of just how pragmatic, or not, voters can be.
Jerry Kratochvil lives in Overland Park, Kansas, and has been involved in Midwest politics for the past 30 years. His Kansas politics blog and podcast can be found at CouldBeBig.com.
Photograph of Kris Kobach talking to a voter by Democracy International via Wikimedia Commons.