The China Problem Extends Well Beyond Coronavirus
And it requires a thoughtful, comprehensive solution, not piecemeal legislation.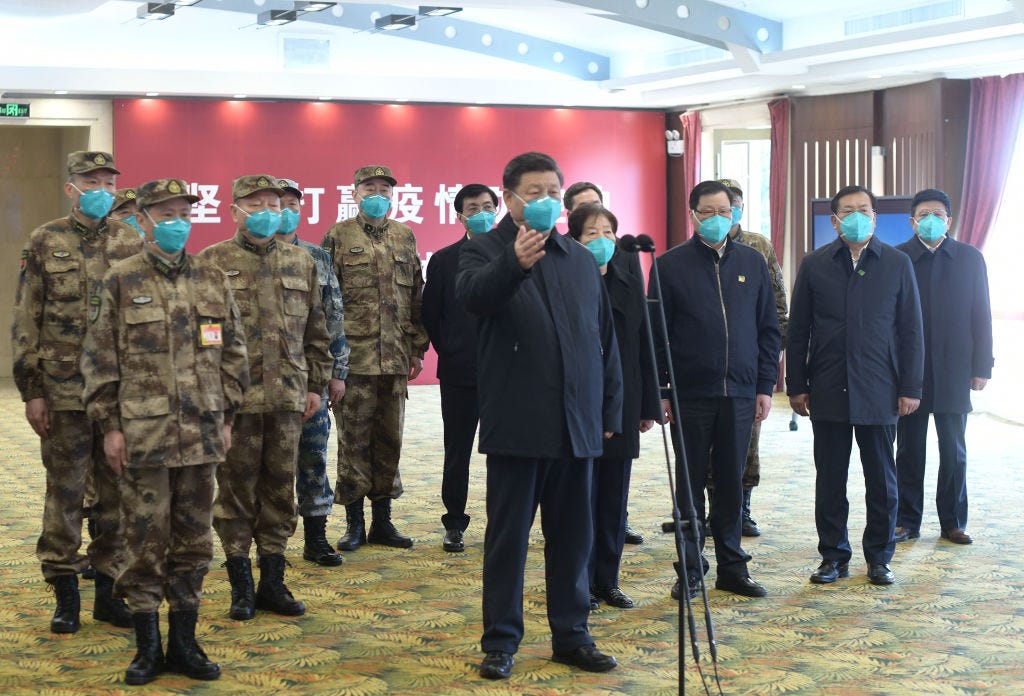 China's negligence in handling the coronavirus disaster has generated a slew of legislative initiatives aimed at doing everything from redirecting the pharmaceutical supply chain to eliminate China's chokehold on key medicines to investigating and punishing the People's Republic for its role in the global pandemic. But none of these bills alone is sufficiently proactive, either to deal with the impact of COVID-19 or to address the systemic threat that China poses. The right approach is more far-reaching, targeted at both the national security and the economic sectors. 
The national security threats and economic challenges presented by the PRC were well-documented and numerous even before we had a pandemic on our hands: The Communist police state, the threats to Asian neighbors and efforts to colonize the South China Sea, the technological predations, the crackdown on Hong Kong, the rounding up of the Uighurs, and so much more. And then there's China's stranglehold on U.S. pharmaceutical supplies, the great Huawei fight over 5G, efforts to control even expatriate Chinese through infiltration of universities, and more.
All of these issues need to be addressed, and going at them piecemeal is at once inefficient and ineffective. All eyes are on the issues related to the coronavirus, but that's only one symptom of the much broader China problem. Weeks before the outbreak, all eyes were on Hong Kong. Before that, on the surveillance tech being used against the Uighurs in Xinjiang. When you look at the legislation being put forward, it's not that any one particular initiative is off base. It's just that they come off as ankle-biting a much larger adversary. Worse, they are destined to fail.
In addition to legislation requiring a new system of U.S. manufacture and supply chain transparency introduced by Sen. Tom Cotton and Rep. Mike Gallagher, as well as similar legislation from Sen. Josh Hawley, there's legislation to investigate China's coronavirus coverup (also Hawley and Rep. Elise Stefanik), a U.S.-China Economic and Security Review Act (Sen. Chris Coons, Rep. Brad Sherman), the South China Sea and East China Sea Sanctions Act of 2019, a Fair Trade with China Enforcement Act, and bills dealing with Chinese influence operations, a bill to deny Chinese investors access to U.S. small business promotion funds, bills regarding Chinese telecom and spying giant Huawei, the Chinese export of illegal narcotics to the United States and literally hundreds more.
The problem with this approach is that it affords China opportunities to lobby U.S. allies and U.S. suppliers, and to leverage existing financial relationships to stymie U.S. efforts to isolate bad actors. Look no further than the infamous Huawei case, in which U.S. failure to act quickly enough on 5G and Chinese exploitation of 5G technology to entrench its surveillance the world over has resulted in acrimonious splits between the U.S. and European allies like Germany and the U.K. Not to speak of the fact that the U.S. government is still granting exceptions to its own blanket Huawei bans. This lack of consistency, failure to act preemptively, and waffling from the White House and regulators means that Huawei is likely to enjoy at least a partial victory in its effort to spy on, well, everyone.
For legislators looking for a model to emulate when considering a comprehensive bill to divorce the United States from China's malign influence, they should consider CISADA, the Comprehensive Iran Sanctions, Accountability, and Divestment Act of 2010. It's less the provisions of this wide-ranging bill to isolate Iran, and more that it represents an all-hands-on-deck approach that brings together all parts of the U.S. government to use all available tools to act in a concerted and consistent fashion against elements of the Iranian government that represent a threat to the United States and its allies.  (Another such bill is CAATSA, the Countering America's Adversaries Through Sanctions Act; and yet another is CAAA, the Comprehensive Anti-Apartheid Act.) Again, the goal is not a declaration of outright economic warfare; the goal is a loophole-free, consistent, and wide-ranging approach.
After all, there is no point in barring one Chinese telecom company and allowing others; in opposing Chinese domination of pharmaceuticals, but ignoring semiconductors; in targeting small Chinese companies but allowing giants to raise cash on U.S. markets; in opposing Chinese infiltration of U.S. universities through Confucius societies or institutes, but allowing Chinese domination of Chinese language teaching in U.S. elementary schools. It was this piecemeal approach that, for example, allowed Iran to build procurement networks around the world for its nuclear and conventional weapons programs, to build the most formidable global terrorism network the world has ever seen, and to murder hundreds of U.S. soldiers in Iraq.
China presents a complex challenge, and deserves serious consideration. It is tempting with every bit of lousy news to haul off and bite again at Beijing's ankles. It will also be tempting to isolationists and bigots and protectionists to go after all of China rather than simply its malign policies and enterprises. But the PRC has proven itself more than capable of circumventing years of U.S. efforts to contain the security threat or selectively address unfair trade practices. 
This coronavirus pause is an opportunity to think over the Western world's long game against the Chinese Communist Party in all of its forms, and to move quickly. Anything less isn't a waste of time, but close.
Photograph by Xinhua/Xie Huanchi/Getty Images.