The Morning Dispatch: Iowa Upon Us
Plus, we talked to a doctor about the coronavirus.
Happy Monday! Congratulations to Patrick Mahomes (whom the Bears could have drafted), Andy Reid, and all the Kansas City Chiefs (of Missouri) on their come-from-behind victory over the 49ers in the Super Bowl last night.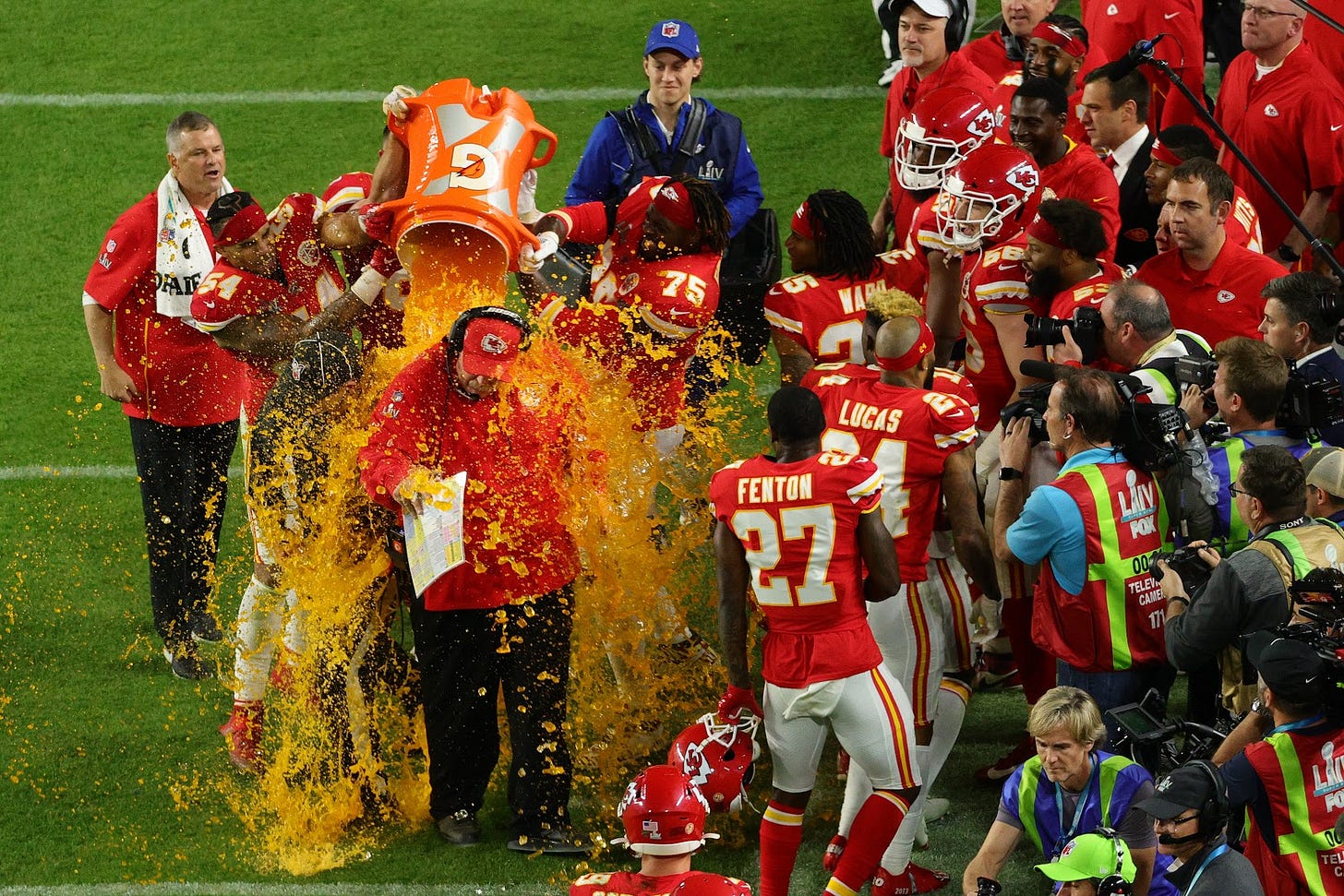 We're still digesting comical amounts of chili, pizza, and buffalo chicken dip (and it'll be another busy week of this), so we'll try to keep today's TMD short.
Quick Hits: Today's Top Stories
Iowa's Big Day
It's genuinely unbelievable how front-loaded this week is: The Super Bowl last night, the State of the Union address tomorrow night, and at long last, the Iowa caucuses today.
Yes, yes, we know: We media types go way overboard with Iowa, which tends not to be a particularly strong predictor of final primary results. But we can't help it! For the first time in more than a year that we get to get some concrete information from the American public about who they actually support and don't support rather than having to rely on public polling, quotes from consultants, reading the entrails of cattle, etc.
The latest polls show Bernie Sanders maintaining his slight but respectable lead over the pack. Given that a substantial chunk of the Democratic party still holds a grudge against Sanders from 2016, for Sanders to win tonight may bode ill for the appearance of solid party unity that the 2020 field has until now done a decent job of maintaining. Writing for the site today, Andrew Egger has a piece examining how some prominent Democrats have grown more publicly critical of Sanders as he has crept up the polls in recent weeks, and how the Sanders campaign has at times struggled to strike a consistent tone in pushing back:
Hillary Clinton has spent a good chunk of the past month sounding off about Sanders—telling The Hollywood Reporter that "nobody likes him, nobody wants to work with him" and blaming him for party disunity on the "Your Primary Playlist" podcast.

Then, just yesterday, former Secretary of State John Kerry, a leading Biden surrogate in Iowa, was overheard talking on the phone about the worrisome possibility of "Bernie Sanders taking down the Democratic party—down whole." We're not to open war yet, but we're getting there.

All this has left the Sanders campaign in a bit of a bind. On the one hand, talking straight with supporters is a huge part of the brand, and both staffers and supporters are indignant that Hillary would take potshots from the sidelines. On the other, they suspect that they're being baited by establishment types who want to put the battle of the primary back on their own home turf: away from policy issues like free public college and single-payer health care, where the rest of the pack has been playing catch-up to Bernie, and back toward questions of civility and decorum that cast him as a party outsider.

This tension has resulted in some mixed messaging from Sanders surrogates. On the one hand, you've got Moore railing against "corporate Democrats" and Clinton and the DNC, and Rep. Rashida Tlaib, who encouraged a Des Moines crowd to boo Clinton on Friday night. (Tlaib later apologized, saying she "allowed my disappointment with Secretary Clinton's latest comments about Senator Sanders and his supporters [to] get the best of me.")

On the other, you've got surrogates like Rep. Mark Pocan—the Wisconsin congressman who chairs the Congressional Progressive Caucus, and who spoke at Sanders' Super Bowl party in Des Moines on Sunday night. In his speech, Pocan characterized Trump's takeover of the Rust Belt in 2016 as a cautionary tale of what can happen when Democratic candidates fail to energize their base, but avoided mentioning Clinton by name. And when asked about Moore's rhetoric specifically, Pocan was dismissive: "I think people at the doors in Iowa aren't talking about that," he said. "They're talking about the need for health care, the need for good-paying, family-supporting jobs, talking about the Green New Deal, talking about those kinds of ideas. And that's why they're going to go caucus. And I think the rest is just a lot of chatter."  
What to Do About the Coronavirus
On Sunday, officials confirmed that the 2019-nCoV strain of coronavirus killed its first victim outside of China: a 44-year-old man in the Philippines. While New York City awaits confirmation of its first potential coronavirus patient, the total number of confirmed cases in the United States stands at 11. Worldwide, that number is closer to 15,000 across 23 countries—despite late efforts by the Chinese government to lock down Wuhan, where the virus is believed to have originated. The death toll has now passed 300. 
But what do any of those numbers actually mean for you and your family? We reached out to Dr. Lauren Larue Walker, a pediatrician in Houston, to get a sense of how worried parents (and others) should be right now. 
First, she acknowledged that coronavirus is a "legitimate concern," especially if you have recently been to China or been around someone who has. But, she added, the flu is still "a more real and present virus that can kill you as well." While she has seen many parents over the last week who are worried about the coronavirus, all were false alarms, including one who was concerned after eating at a Chinese restaurant for dinner.
Although the coronavirus' current estimated 2.1 percent fatality rate may be greater than the flu (though significantly lower than SARS'), at this early stage it's unclear whether the data is over- or underestimating the true threat it poses. On one hand, the coronavirus' long incubation period could mean the fatality rate is lagging behind. On the other, there's a very real chance the total number of cases is being underreported—many with milder symptoms may not have sought medical treatment.
Even so, Dr. Walker is seeing "flu out the wazoo" this time of year, and the risk from the seasonal flu is still "astronomically higher" for American children because it is so much more prevalent. During the 2017-2018 winter, for example, the flu killed 80,000 Americans, including 180 children. But up to 90 percent of children who die from the flu are not vaccinated. The vaccine, she said, doesn't just prevent the flu, but can also make symptoms milder and reduce complications if you do happen to contract the virus. 
So what advice is she giving at this point? The usual: Use good judgment and common sense. And get vaccinated.
Worth Your Time
Pop Culture Recommendation
One of your Morning Dispatchers finally got around to watching The Peanut Butter Falcon, a delightful Mark Twain-style adventure starring Shia LaBeouf, Dakota Johnson, and Zack Gottsagen. Come for the masterfully delivered "you are not invited to my birthday party!" line, stay for the Gregory Alan Isakov-infused soundtrack. Available for download wherever fine movies are downloaded.
Toeing the Company Line
Let Us Know
The football was pretty great last night, but so were the commercials. Which was your favorite?
Reporting by Declan Garvey (@declanpgarvey), Andrew Egger (@EggerDC), Sarah Isgur (@whignewtons), and Steve Hayes (@stephenfhayes).
Photograph of the Chiefs giving Andy Reid a Gatorade bath by Mike Ehrmann/Getty Images.