What, Exactly, Is Going On in Portland?
The Trump administration has sent in federal agents in unmarked vehicles, ostensibly to protect federal property. Accounts on the ground indicate they have strayed from that mission.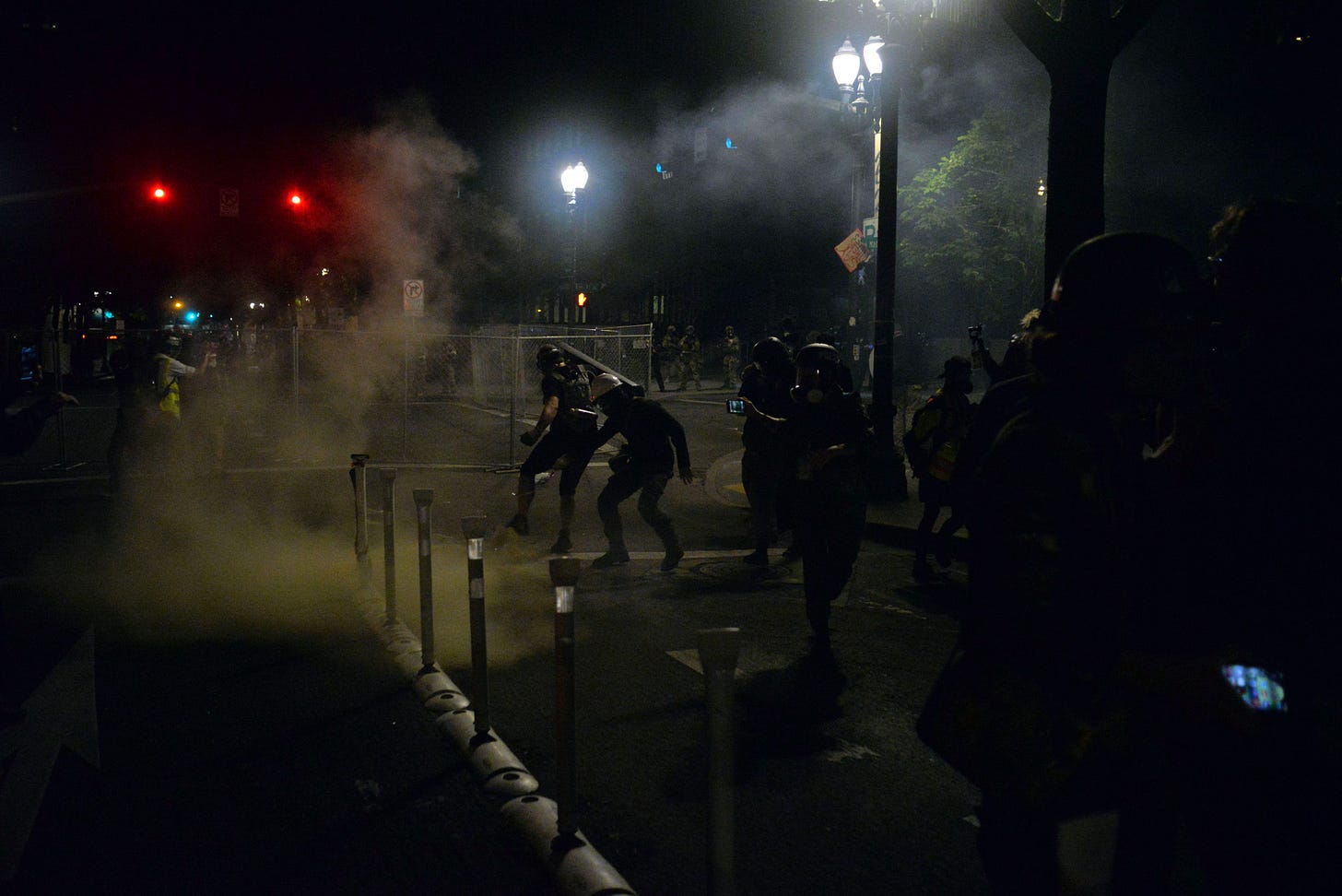 Late last week, reports surfaced of federal agents in tactical gear and unmarked vans rounding up protesters in Portland. The unprecedented crackdown follows more than 50 straight nights of demonstrations against police brutality and systemic racism involving mostly peaceful protesters, but also vandals targeting government property and violent actors confronting local and federal law enforcement officers. President Trump sent in the "rapid deployment teams" to protect federal property and personnel; at the same time, he condemned the failure of the city's Democratic leadership to do so. 
Early this month, federal officials largely limited their responses to protecting federal facilities—their first move was to clear protesters from outside the federal courthouse. By July 4, however, the agents were escalating their use of force to remove protesters. 
Freelance journalist Garrison Davis, who has covered almost every day of the Portland protests through videos and updates on his Twitter feed, recalls the most jarring use of force by law enforcement coming on July 11. "The crowd was the most peaceful I'd seen in weeks, and the federal officers were the most brutal that I'd ever seen," he tells The Dispatch. 
Federal officers reportedly deployed tear gas, bloodied protesters with batons, and fired rubber bullets into crowds of protesters in order to clear them from the federal courthouse. Donavan La Bella, 26, was hospitalized and required facial reconstruction surgery after a federal agent shot him in the head with a "less-than-lethal" munition.
Davis, 17, has been tear gassed several times during his coverage of the protests. Although he wears a gas mask now, he says he needs to routinely change the filter and scrub his belongings of the gaseous residue. "There is first just a spicy punch to your face, the air begins to smell rotten. Your lungs and face start to burn. Eyes begin to get watery. You sense you want to puke, but you can't because your lungs and throat are sealing shut," he says. Davis also noted that the tear gas used by federal agents is noticeably more potent than the chemical agent previously released by the Portland police. Other reporters have documented similar experiences.
His experience was similar to that of a woman named Jen, who participated in the "wall of moms" demonstration over the weekend. She described the protesters being separated from law enforcement by a fence, until part of the fence was torn down and the protest, which had been peaceful, grew rowdy. 
"Then suddenly the doors opened again and loud noises and smoke started filling the area immediately. My eyes started burning and I started coughing right away. A man in front of me picked something up off the ground and threw it back towards the feds then ran back towards me. At that point I did start to move away to get away from this guy in case they fired a shot and hit me. The pain in my eyes and throat were unbearable. Some stranger saw me and gave me his snow goggles to use as protection. He insisted I wear them and also made sure that I was okay and that I had someone there in the crowd to help me get home. We were all pushed to the other side of the park (a block up) and the gas was still bad."
Ken Cuccinelli—the acting deputy secretary of the DHS—appeared on CNN Monday to justify the federal intrusion, reporting that the agency was responding to "intelligence about planned attacks on federal facilities." 
Interim head of the DHS Chad Wolf released a scathing statement last Thursday about recent violence in Portland and the city government's inadequate response. "The city of Portland has been under siege for 47 straight days by a violent mob while local political leaders refuse to store order to their city," the statement reads. "Each night, lawless anarchists destroy and desecrate property, including the federal courthouse, and attack the brave law enforcement officers protecting it."
Wolf outlined the various crimes committed during the unrest, beginning each charge with "violent anarchists," citing mostly property damage, graffiti and broken windows.
While the broad claims of "violent anarchists" might be oversimplified, Wolf correctly asserts that demonstrators have engaged in non-peaceful forms of protest. They have set off fireworks, torn down fences, set fires, and even tried to establish an autonomous zone à la Seattle. Perhaps not surprisingly, the unrest persisted despite substantial concessions by the local government, like the city commissioners' pledge to reduce the police budget by $16 million and the resignation of police chief Jami Resch last month.
Trump's introduction of increasingly hostile paramilitary forces has done nothing to quell the protests and has instead reignited them. Oregon public officials have pleaded with the administration to pull federal agents out of Portland, criticizing the intervention as an unnecessary escalation. 
In an interview with NPR, Oregon's Democratic Gov. Kate Brown called for the removal of federal agents. "The Trump administration needs to stop playing politics with people's lives. We don't have a secret police in this country," she said. "This is not a dictatorship. And Trump needs to get his officers off the streets." 
Portland Mayor Ted Wheeler, a Democrat, mirrored that sentiment—"What they are doing is sharply escalating the situation," Wheeler told host Jake Tapper on CNN's State of the Union. "Their presence here is actually leading to more violence and more vandalism. And it's not helping the situation at all. They're not wanted here."
Sens. Jeff Merkley and Ron Wyden (along with two Oregon representatives) drafted a letter to Attorney General William Barr and Wolf, calling on them to remove "paramilitary forces" from Portland: "They are more reflective of tactics of a government led by a dictator, not from the government of our constitutional democratic republic."
Alleging illegal detainments by federal agents, Oregon Attorney General Ellen Rosenblum filed a lawsuit against the Department of Homeland Security and other federal agencies Friday to request a restraining order. Rosenblum alleged that the seizures of protesters "violated the constitution by unlawfully detaining and arresting demonstrators without probable cause."
Typically, the DHS deploys officers only at the explicit request of local or state governments. However, state officials have made it abundantly clear that they did not request the agents and would like to see their withdrawal. 
Nonetheless, unrest in Portland technically falls under federal jurisdiction if officials have a reason to think that a federal crime has been committed. The forces were sent in to protect federal property and law enforcement, but reportedly strayed several blocks away from federal buildings to clear and detain protesters. 
Critics say the actions of the federal agents are unjustified and may be unconstitutional. The officers potentially violated the protesters's rights against unreasonable searches and seizures, by arresting them without warrant or probable cause. Some individuals scooped up by the unmarked vans were peaceful protesters, and some reportedly had no involvement in the protests at all.  
The actions have awoken the civil liberties instincts of Kentucky Republican Sen. Rand Paul, who shared the following:
And Rep. Justin Amash, the former Republican and only Libertarian party member in Congress, retweeted a video of President Trump touting the federal response on Monday with the caption: "Donald Trump is deploying unmarked federal police, decked out like a paramilitary force, to grab Americans off the streets. He's not protecting liberty; he's practicing tyranny."
On Monday, the New York Times reported that the Trump administration was dispatching federal agents to Chicago as part of broader crackdown on violence.
Photograph by Ankur Dholakia/AFP/Getty Images.