A City—and a Warlord—Under Siege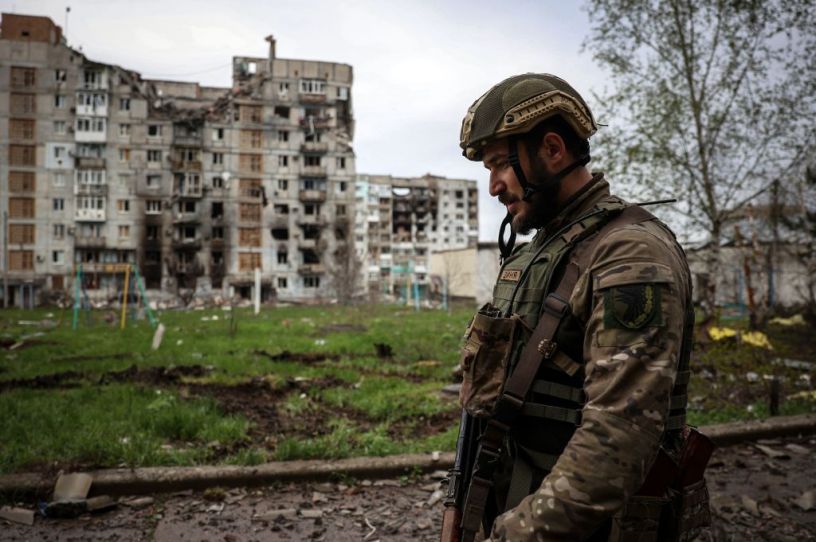 A Ukrainian serviceman walks near a residential building damaged by shelling in the frontline city of Bakhmut on April 23, 2023. (Photo by ANATOLII STEPANOV/AFP via Getty Images)
Russian and Ukrainian forces continued their yearlong battle over Bakhmut this week in southeast Ukraine. But the now-destroyed city has also become the theater for another struggle between Russia's military leaders and the mercenaries Moscow sent to the front to bolster its conventional forces last year: the Wagner Group.
After a series of small counterattacks in and around the city by Ukrainian forces this week, the Russian Ministry of Defense claimed Wednesday that its reinforcements had made incremental gains near Bakhmut. But Wagner's commander, Yevgeny Prigozhin, on Thursday accused the Russian military of pulling back and leaving his own units exposed. As the fight for the city rages on, the two Russian forces are both hoping to take credit for victories while deflecting blame for defeats.
On Monday, new revelations from the Discord leaks—classified material shared online by a 21-year-old Massachusetts Air National Guard airman this year—revealed just how far Wagner's infamous oligarch leader would go to that end. First reported by the Washington Post, the U.S. intelligence documents detailed January communications between Ukraine's military intelligence directorate and Prigozhin, who allegedly offered to give up Russian troop positions in exchange for the Ukrainian military's retreat from Bakhmut. Unwilling to relinquish the city and doubting the sincerity of the offer, which Prigozhin reportedly made on more than one occasion, Ukraine declined.
Russian officials dismissed the story as a "hoax," yet it's one in a string of reports signaling the divide between Russia's defense ministry and Prigozhin's guns-for-hire. Earlier this month, the Wagner chief threatened to withdraw his forces from Bakhmut if Russian commanders didn't provide his forces with more ammunition. "The blood is still fresh," he said in a video posted to Telegram, gesturing to corpses he claimed belonged to his fighters. "They came here as volunteers and are dying so you can sit like fat cats in your luxury offices." When the military failed to meet Prigozhin's demands, threatening him instead with treason charges, he remained on the front line.
Get every newsletter and all of The Dispatch. Support quality, fact-based journalism.
Get Started
ALREADY HAVE AN ACCOUNT? SIGN IN