A Modern Comedy of Remarriage(ish)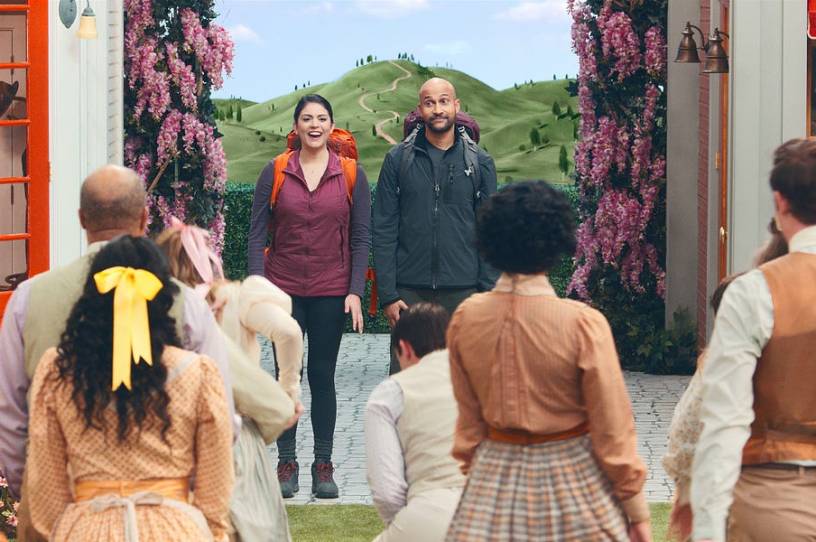 Schmigadoon! was released at a rather inopportune time. The critically acclaimed comedy boasts a star studded cast—the show is directed by Barry Sonnenfeld and has a strong Saturday Night Live presence; SNL producer Lorne Michaels is an executive producer, SNL cast member Bowen Yang is a writer, SNL alumni Fred Armisen and Martin Short are in supporting roles, and SNL cast member Cecily Strong stars. And yet it had the misfortune of debuting around the same time fellow Apple TV show Ted Lasso returned to the small screen, and, well, how can you compete with what is arguably the most loved show in America? But while in Ted Lasso's shadow the past few weeks, Schmigadoon! has quietly proved itself to be one of the best things on TV right now.
The show is a musical comedy that follows Melissa Gimble (Strong) and Josh Skinner (Keegan-Michael Key), two doctors from NYC, who find themselves in a bit of a rut after years of dating. In an effort at reconnecting, Melissa convinces Josh to go on a couple's retreat. They inevitably get lost in the woods during a storm and cross a bridge only to find themselves in a sunny, clear-skied little village called Schmigadoon where the townspeople immediately break into song. Initially, Melissa and Josh think they've wandered into some tourist trap but as they spend more time in Schmigadoon they realize it's far more than that: They're in an alternate reality where life is a Golden Age musical. And they can't escape. A leprechaun (Short) informs the couple that until they find true love, no matter how far they walk, no matter which way they go, they will wind up back in Schmigadoon.
The premise alone is fantastic, and Sonnenfeld assembled an incredible cast to bring it to life. As if Key, Strong, and Armisen weren't enough, the supporting cast is filled with actors and actresses with both film and Broadway chops like Tony winners Kristin Chenoweth, Alan Cummings, and Jane Krakowski. The writing occasionally dips in quality, as the writers seem to rush the action at times to get to the next musical number, but the star power of the cast is more than enough to keep Schmigadoon! a fun and interesting watch.
The show is best enjoyed if you've got some familiarity with musicals of the 40s and 50s; it strikes a beguiling balance between parody and homage with songs that wouldn't be out of place in an earnest musical production. There are also a few songs that are clearly designed to poke fun at the genre, like Melissa's singalong explanation of sexual reproduction systems to a young expectant couple—which is a very on-the-nose parody of "Do, Re, Mi" from The Sound of Music. The soundtrack features a number of legitimately good songs that musical theater fans will appreciate—"With All Your Heart" and "Suddenly," both from the fourth episode, stand out—but the parody songs don't work very well. They're far too heavy-handed and painfully reminiscent of the broad and uninspired humor so common on SNL.