A Senate Committee Takes a Partisan Turn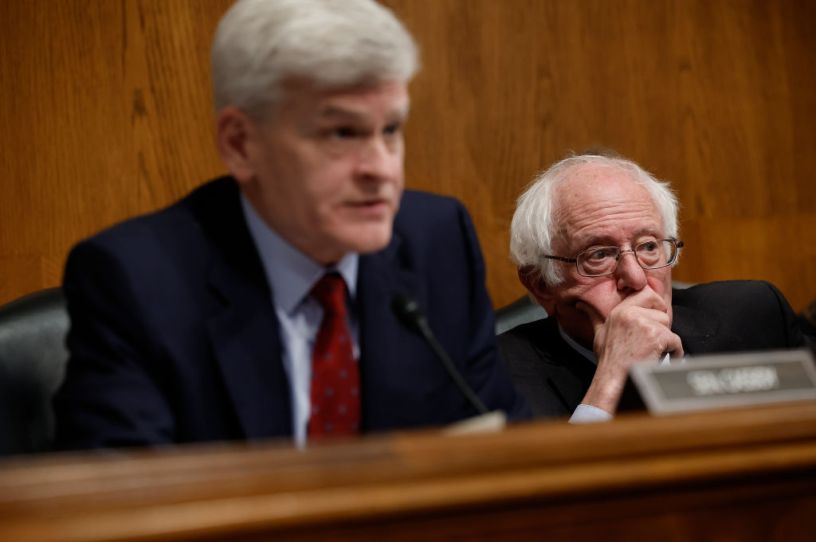 Senate Health, Education, Labor and Pensions Committee Chairman Bernie Sanders listens to ranking member Sen. Bill Cassidy during a hearing in April 2023. (Photo by Chip Somodevilla/Getty Images)
Members of a Senate committee meeting to amend proposed legislation usually wouldn't warrant much attention. But the Health, Education, Labor, and Pensions Committee's markup of three bills on Wednesday was its first partisan markup since 2009, when Democrats had a filibuster-proof majority and were crafting what became the Affordable Care Act.
"This is a significant aberration," David Cleary, a longtime former Republican staff director for the HELP Committee, tells The Dispatch.
It's not the first time that partisanship has outpaced the committee's precedent of pragmatism in recent months. Republicans argue that Chairman Bernie Sanders' decision to hold the partisan markup—as well as his handling of committee business more generally—demonstrates a lack of interest in negotiating on bills that actually stand a chance of becoming law.
Sanders, who began chairing the committee in January, has also held multiple (non-markup) partisan hearings and proposed a 550 percent increase in funding for community health clinics—a move that has no chance of passing the Senate. It's a sharp turn for a committee that has typically been able to forge bipartisan consensus on a wide range of issues.