Another Humanitarian Crisis Is Brewing in Europe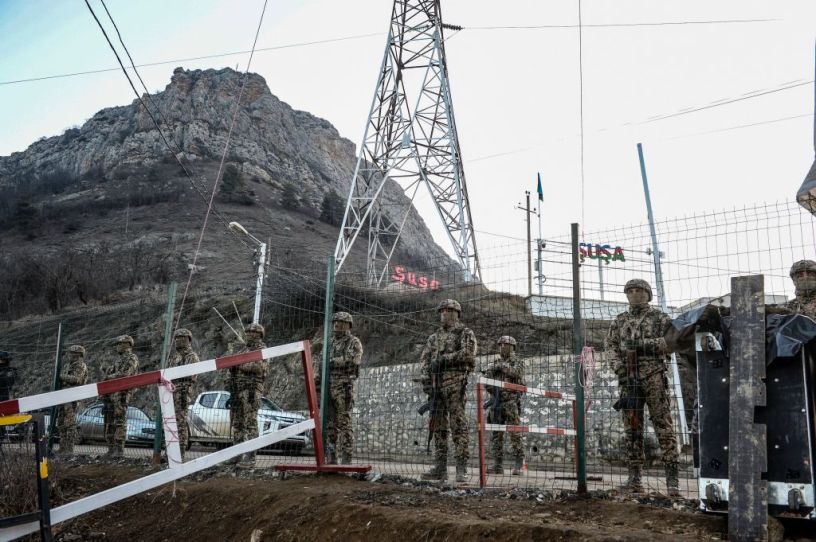 Azerbaijani servicemen stand guard at a checkpoint at the Lachin Corridor. (Photo by TOFIK BABAYEV/AFP via Getty Images)
When Emma Mamunts left the Armenian capital Yerevan to visit her family in December, she didn't think she'd become part of an international humanitarian crisis. But for nearly two months the 23-year-old—along with about 120,000 ethnic Armenians—has been stuck in Nagorno-Karabakh, a disputed mountainous region sandwiched between Azerbaijan and Armenia.
"The impact on normal life is huge," Mamunts said. "We lack almost everything, from food to household goods: sugar, butter, rice, pasta, buckwheat, canned food."
Government-backed Azerbaijani civilians have been blocking the Lachin Corridor, the sole road connecting the region with Armenia, since December 12. They say they're protesting illegal Armenian mining operations. But advocacy groups and a bipartisan coalition of lawmakers say it's more malicious.
"The purpose is ethnic cleansing," Rep. Brad Sherman, a Democrat from California, said this week. He and the newly formed Save Karabakh Coalition are calling on the U.S. government to do more to pressure the Azerbaijan government to lift the blockade of the long-fought-over enclave.
You're out of free articles
Create an account to unlock 1 more articles