Anti-Trump Conservatives: Forgotten But Not Gone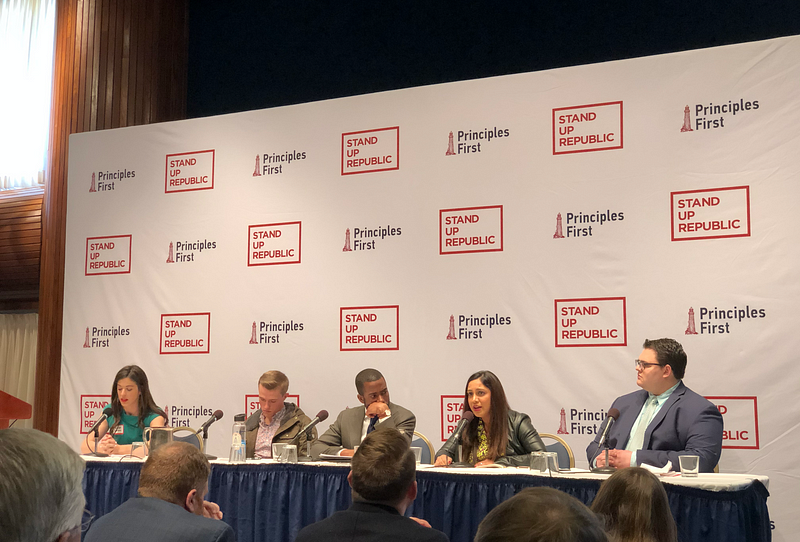 All eyes in Republican politics were on the Conservative Political Action Conference (CPAC) this past week, and for good reason. The slate of speakers at the Gaylord National Resort and Conference Center included the president and vice president of the United States, nearly the entire Cabinet, and some of the biggest names in right-wing media. CPAC was the biggest show in town, but it wasn't the only one.
On the other side of the Potomac River, a block east of the White House, organizers of the Summit on Principled Conservatism—a gathering billed as a grassroots "discussion about what conservatism means today and where the conservative movement must go from here"—took pains on Saturday to steer the conference, now in its second year, away from some of the excesses of the anti-Trump movement.
Evan McMullin—a former CIA operative who ran against Donald Trump as an independent in 2016 and now helms the Stand Up Republic advocacy organization—kicked off the day's programming. "We are loyal to principle first," he said. "Not because we believe ourselves to be better than anyone else; we are not. And not because we're unrealistic about the world; we are not. … We don't consider those on the right or the left who have different views than us to be our enemy."
"This summit is not a Never Trump summit, this is a principles first summit," Heath Mayo told the 275 registered attendees at the National Press Club (the group outgrew its original space and had to scramble to find a larger venue). "This is about our ideas. We have Trump supporters in the room today, we have old-guard conservatives, new-guard conservatives, libertarians, all across the spectrum. No one was uninvited from this event, everyone was welcome."