Are Republicans Ready for Change Yet?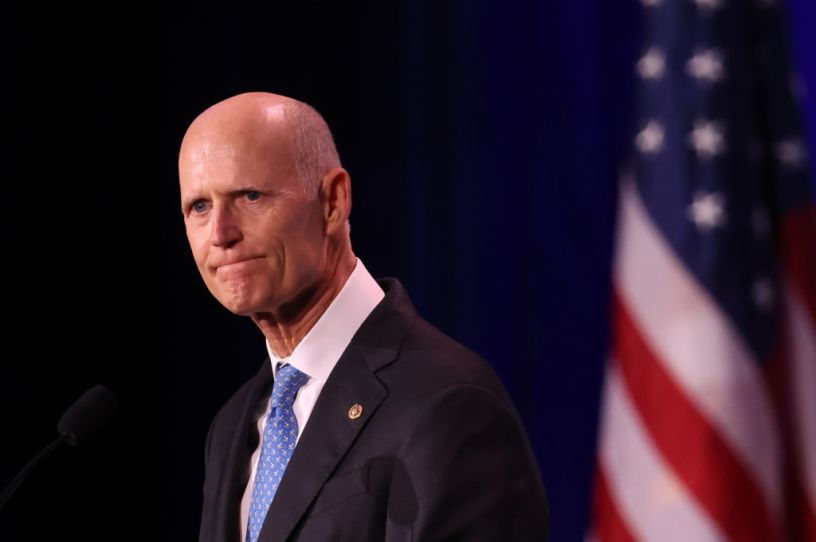 U.S. Sen. Rick Scott. (Photo by Scott Olson/Getty Images.)
Republicans are doing something very rare in modern politics: contemplating life after three bad election cycles in a row.
Even during Democrats' brutal run in the 1980s when the party lost blowout presidential elections in 1980, 1984, and 1988, they scored midterm victories—sometimes substantial ones—in between. Republicans' deep suffering after Watergate lasted only two cycles. By 1978, voters were ready to return to the GOP.
But today's Republican Party finds itself reeling from a trifecta of tough contests. In 2018, Democrats made their biggest House gains in 44 years. In 2020, Donald Trump became just the fifth president in a century who lost a re-election bid, and the first in nearly 30 years. In 2022, as Yuval Levin points out, Democrats lost too. But the Republican failure to win the Senate and the party's puny gains in the lower chamber, maybe as few as seven seats, were nothing short of a debacle. Top Republicans were talking about "long-range bets in places [President Biden] won by even double digits," at the end of October, which would have pointed to gains of more than 30 seats. After a record-breaking $175 million in super PAC spending, Republican candidates struggled even in toss-up districts.
But this isn't primarily about bad strategy and misspent money. This is a story about a party badly out of step with the electorate even as the majority party struggles to offer a viable option for voters. The question for the GOP is whether three bad outings are sufficient to persuade the party to start mending its ways. We saw some stirrings of change over the weekend at the first cattle call of the 2024 nominating process, but it is by no means clear that Republicans are prepared to face facts.