Arizona: the Epicenter of 2020 Election Misinformation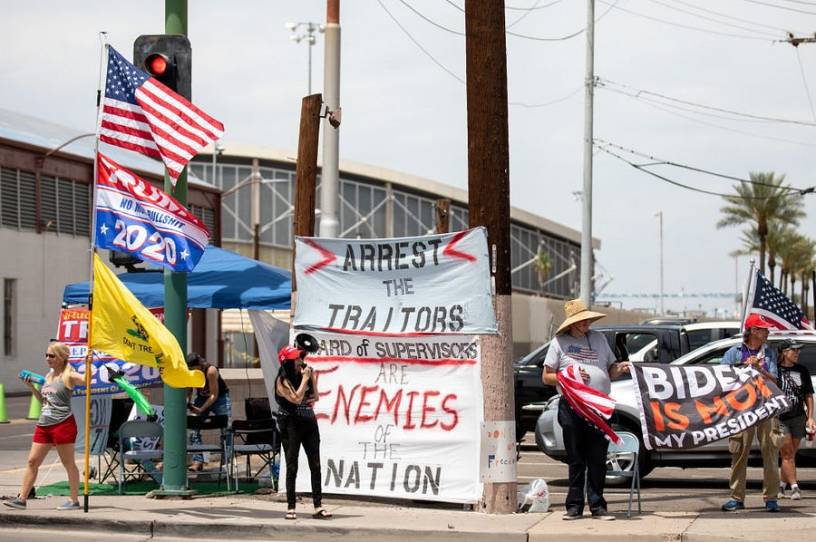 Last month, a group of Arizona voters and the progressive non-profit Free Speech For People filed three separate lawsuits in Maricopa County Superior Court against state Rep. Mark Finchem and U.S. Reps. Andy Biggs and Paul Gosar for their respective roles in the January 6 Capitol riot. 
The lawsuits argue that Finchem—running for Arizona secretary of state—and Biggs and Gosar—both seeking reelection—participated in the January 6 insurrection in such a way that disqualifies them from holding public office, according to Section 3 of the 14th Amendment, which was ratified after the Civil War. The section, known as the Disqualification Clause, bars anyone from holding public office who "engaged in insurrection or rebellion against the same, or given aid or comfort to the enemies thereof."
On April 22, Maricopa County Superior Court Judge Christopher Coury dismissed the lawsuits, saying state court didn't have the jurisdiction to try such a case and that the judicial branch interfering with the legislative branch of government "arguably implicates the doctrines of federalism and separation of powers between the branches of government." They suits are similar to efforts to disqualify Georgia GOP Rep. Marjorie Taylor Greene and North Carolina GOP Rep. Madison Cawthorn for the same reasons (a federal appeals court is considering a lower court's dismissal of the lawsuit against Cawthorn, and a Georgia judge has yet to rule on Greene's case).
The Arizona lawsuits won't keep Finchem, Biggs, and Gosar from seeking reelection, but they do offer a glimpse into conversations taking place in the Grand Canyon State, which has become ground zero for the "Stop the Steal" movement and election disinformation. Arizona has undergone at least 10 reviews of the 2020 election (which includes both official reviews and several unofficial partisan efforts), none of which have found any evidence of widespread fraud. Yet efforts to overturn that election continue.