Biden Is Losing the High-Tech War With China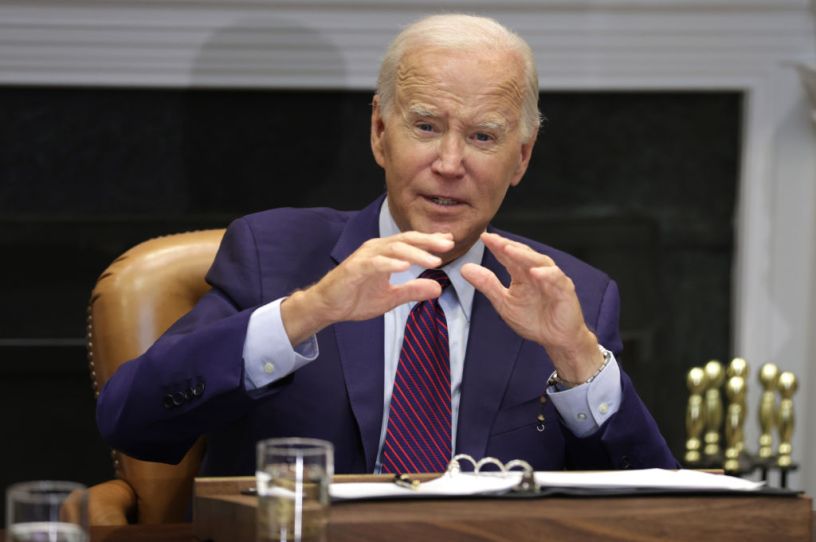 President Joe Biden speaks from the Roosevelt Room of the White House on August 28, 2023 in Washington, D.C. (Photo by Alex Wong/Getty Images)
It's becoming all too clear that the Biden administration doesn't understand the threat China poses to America and the free world, or how to deal with it.
President Joe Biden signed an executive order on August 9 purporting to ban U.S. companies from investing in certain advanced technologies in China. But at the same time the administration was trying to look tough on Beijing regarding AI and advanced semiconductors, Commerce Secretary Gina Raimondo was flying to Beijing to stress how "profoundly important" a "stable economic relationship" with China is, tech bans notwithstanding. She's just the latest in a long line of administration officials sent to kowtow to President Xi Jinping and his cohorts (in Treasury Secretary Janet Yellen's case, almost literally kowtowing in body as well as spirit), in hopes that if we look fawning and acquiescent enough Beijing will behave itself on the international stage—at least until the 2024 election.
But perhaps there's no contradiction here. A closer look reveals that the August 9 executive order, far from getting tough with China and its U.S.-based financial enablers, barely interrupts the U.S.-China high-tech nexus that feeds China's global ambitions at America's—and freedom's—expense.
Of course, everyone, even Biden, understands that China is steadily overtaking us in the development and deployment of technologies that will dominate the future like AI, quantum, 5G telecommunications, and supercomputers.