Biden's Camp David Moment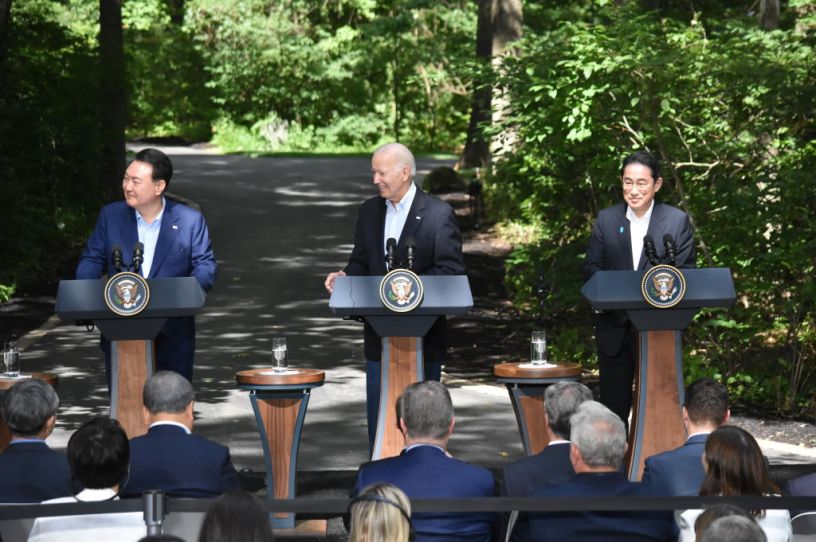 President Joe Biden holds a trilateral news conference with President Yoon Suk Yeol of South Korea and Prime Minister Fumio Kishida of Japan at Camp David, Maryland, on August 18, 2023. (Photo by Kyle Mazza/Anadolu Agency via Getty Images)
Soon after a fleet of Russian and Chinese warships traversed the waterway between Japan's Okinawa and Miyako Islands on Thursday, the leaders of Washington's foremost North Asian allies touched down in the United States for a historic display of unity amid growing regional tensions.
President Joe Biden hosted South Korean President Yoon Suk Yeol and Japanese Prime Minister Fumio Kishida at Camp David last Friday for a stand-alone summit, the first of its kind between the three nations. The choice of venue was no accident: It was at the presidential retreat in Maryland that President Jimmy Carter brokered a peace between Israel and Egypt in 1978. Nearly 45 years later, the three heads of state set aside the Asian allies' historical differences in the face of novel geopolitical threats.
"I can think of no more fitting location to begin the next era—our next era of cooperation—a place that has long symbolized the power of new beginnings and new possibilities," Biden said Friday, standing alongside Yoon and Kishida. "This is not about a day, a week, or month. This is about decades and decades of relationships that we're building."
To that end, the three leaders unveiled a series of steps to ensure the countries' partnership can outlast their own administrations. In addition to pledging to hold future high-level meetings, the summit laid out plans to enhance economic and technological collaboration with an eye toward preventing supply chain vulnerabilities. Technologies like semiconductors, clean energy, quantum computing, and artificial intelligence were of particular focus.