Biden's Misguided Call for Internet Regulation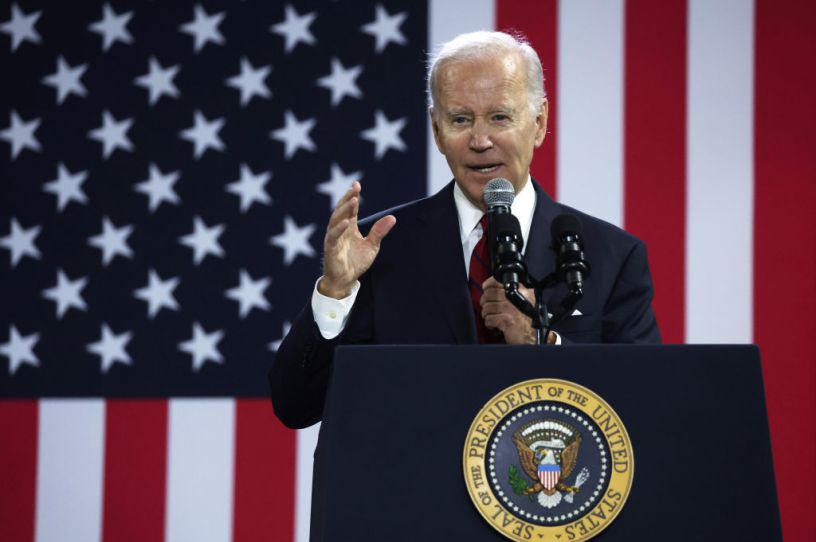 U.S. President Joe Biden has proposed regulating social media companies by reforming Section 230 and called for limiting data collection. (Photo by Alex Wong/Getty Images.)
Last fall, President Joe Biden earned mocking headlines for spelling out the word "D-O-T" while reading out a website address from a teleprompter. It is no surprise that a president born closer to Abraham Lincoln's second inauguration than to his own would be unfamiliar with internet terminology. Yet Very Online progressives made Biden a social media star of sorts with a bespoke meme repurposed from anti-American Chinese propaganda known as "Dark Brandon," the laser-eyed scourge of malarkey.
Dark Brandon's 15 minutes of memedom have not stopped the regular ol' Joe Biden from settling on internet regulation as a major emphasis for 2023. A variety of proposed internet rules fell just short of passage last year—including a proposal to cartelize newspapers so they can extract revenue from Apple and Facebook—but the administration appears to see reining in Big Tech as fertile ground for the kind of bipartisan cooperation needed to move legislation through a sharply divided Congress.
To that end, Biden took to the editorial pages of the conservative-leaning Wall Street Journal last month. The resulting op-ed reveals Joe Biden to be hopelessly out of touch with the nature of the internet. His proposals, if enacted, would take a laser to the foundations of 21st century American prosperity and threaten the U.S.'s position at the forefront of internet innovation.
Biden's call for regulation is rooted in fearmongering. He accuses social media companies of running an experiment on children, charges online forums with promoting offline violence, and implies that platforms aid and abet a wide range of online criminal conduct from cyberstalking to illicit drug sales. This is the rhetoric of moral panic. Joe Biden joins a long line of politicians who have exploited public fears about the negative social effects of novel mass media to justify government overreach, from Sen. John Pastore's crusade against violent TV westerns in the 1970s to Sen. Joe Lieberman's obsession with Mortal Kombat in the 1990s.
You're out of free articles
Create an account to unlock 1 more articles