Biden's Words Speak Louder Than His Actions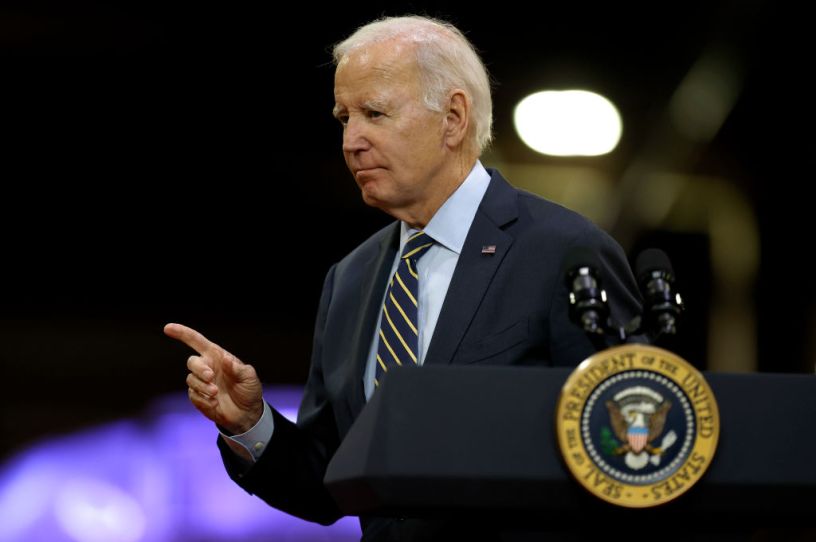 President Joe Biden on November 6, 2023 in Bear, Delaware. (Photo by Chip Somodevilla/Getty Images)
Following the United States' precipitous withdrawal from Afghanistan in 2021, a series of foreign policy crises have unfolded around the world. In each instance, the White House has insisted it will fully support the defending nation, whether Ukraine in Russia's war of aggression or Israel's quest to eliminate Hamas after the October 7 massacre, and U.S. officials have issued ominous veiled threats against the aggressors.
But three years into his term, the very uncomfortable reality is that despite the tough talk, President Joe Biden has been far too reserved, timid, and risk-averse. This more restrained foreign policy has not resulted in less violence or more conciliatory adversaries willing to compromise, but quite the opposite. And barring some major shift in approach from the United States, things are likely to get worse.
While Israel conducts its operation to dismantle the Hamas terror machine in Gaza, Biden administration officials routinely affirm solidarity with our Middle Eastern ally. "We stand with Israel. And we will make sure Israel has what it needs to take care of its citizens, defend itself, and respond to this attack," the president said in his first public address following the October 7 massacre. He has echoed this sentiment since, but with each commitment, key administration officials declare that Israel should hold back until more aid can reach Gaza, and that Israel should be sure to follow the laws of armed conflict. (It is.) Responding to an agitator at a press conference last week, Biden erupted, "I think we need a pause." Then later added: "A pause means give time to get the prisoners out." At the time, it was unclear what the president meant. But in a call with Israeli Prime Minister Benjamin Netanyahu on Monday, Biden urged the prime minister to take a three-day fighting pause.
The disconnect between the White House's words and actions has been similarly stark with respect to Iran. Since the October 7 attack on the Jewish people, the source of Hamas support—the Iranian regime—has been backing proxy attacks against U.S. forces throughout Iraq and Syria. As of this week, there have been 40  separate missile attacks against U.S. forces in those countries, injuring at least 45 service members. The Biden team's message to Iran? "Don't." Or what? Because at a Senate Armed Services Committee hearing in March, Secretary of Defense Lloyd Austin conceded to Sen. Tom Cotton that the United States had launched just four "major responses" to the then-83 total attacks on U.S. forces in Iraq and Syria by Iranian proxies since Biden took office. In one of those responses, U.S. forces destroyed a warehouse while trying to avoid hitting Iranian-backed groups. And since Iran's escalation following October 7, the U.S. has retaliated against Tehran's proxies just twice–carrying out an attack against two empty facilities in Syria on October 26 and another on Wednesday.
You're out of free articles
Create an account to unlock 1 more articles