Coming Out as an Arab Advocate of Peace with Israel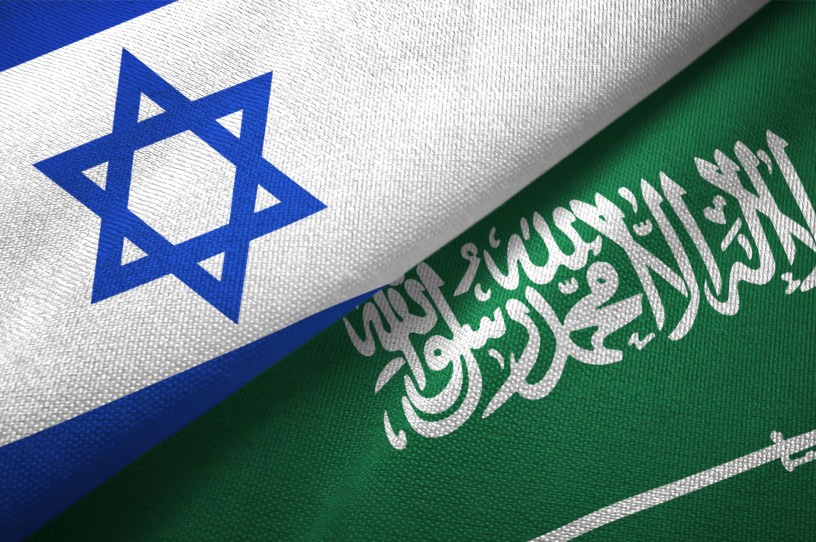 Israeli and Saudi flags. (Stock photo by Getty Images.)
As a student in Lebanon in the 1990s, I believed that the Jewish state sought to occupy Arab lands "from the Euphrates to the Nile," and I was hardly alone. My view of Israel began to change, though, in 2000, when I saw Israel for the first time, albeit through barbed wire. I had just graduated from the American University of Beirut, and Israeli troops had just withdrawn from southern Lebanon. This prompted many Lebanese—myself included—to flock to the border and look through the fences. The communities on the Israeli side appeared to be impeccably designed, while Lebanon was still recovering haphazardly from a decade and a half of civil war.
I wanted to know what made Israel stable and prosperous, yet in Lebanon at the time, literature about Israel consisted mainly of antisemitic books. I turned to the internet, scavenging for resources that helped me learn Hebrew. I also found one spot in Beirut—at the westernmost tip of Beirut's coastline, underneath the New Lighthouse—where my AM radio could receive the signal from Israel's Reshet Alef channel. I spent hundreds of hours listening, learning, and decoding printouts of the Hebrew press, all in secrecy for fear that doing so would be construed as "normalization with the Zionist enemy."
I also drove to the border to train my Hebrew across the barbed wire. Israeli troops were amused that a Lebanese was dabbling in their language, but Hezbollah militiamen berated me for "talking to the enemy." Lebanese law prohibits any dealing with Israelis, including talking to them. I was learning about Israel, but at an agonizingly slow rate.
My break came when I immigrated to Washington in 2004, where I started consuming everything Hebrew, from the writings of Rav Kook, the father of religious Zionism, to books by left-wing writers like Amos Oz. I watched all kinds of Israeli films and television shows, old and new, from Sallah Shabati to the popular series Srugim and Shababnikim.