Could McCarthy Really Pull Off Impeaching Biden?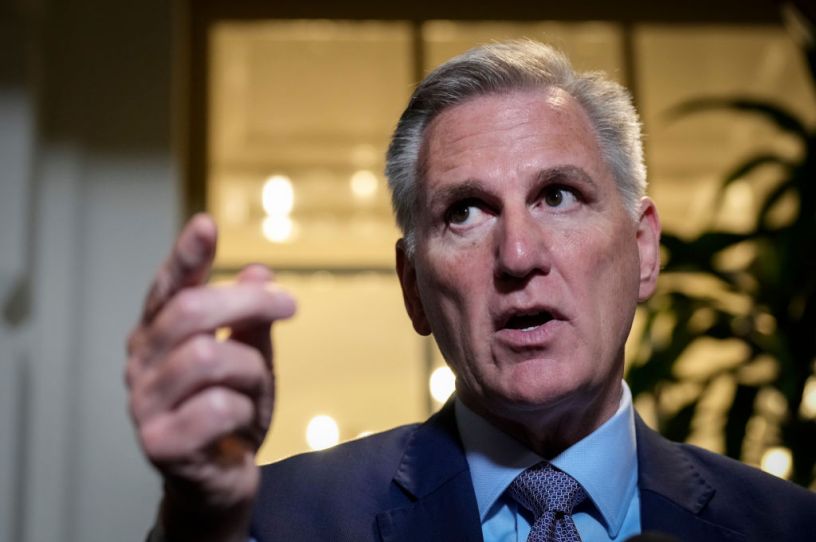 Speaker of the House Kevin McCarthy addresses reporters after a House Republican caucus meeting at the U.S. Capitol on September 19, 2023, in Washington, D.C.(Photo by Drew Angerer/Getty Images)
House Speaker Kevin McCarthy's decision to move ahead with impeachment proceedings—and the Democrats' response—reminded me of one of something Egyptian President Gamal Nasser reportedly once said, "The genius of you Americans is that you never make clear-cut stupid moves, only complicated stupid moves which make us wonder at the possibility that there may be something to them which we are missing." Nasser was talking about foreign policy, but cleverly stupid politics doesn't end at the water's edge.
Let's start with McCarthy. He unilaterally announced an impeachment inquiry—without putting it up for a vote—into what some call "the Biden crime family," but no new committee will be created. Rep. Jim Jordan's Judiciary and James Comer's Oversight committees will keep doing exactly what they've been doing.  
That's not the point, Republicans say. This is necessary to get the expanded subpoena power that impeachments provide.
Or not. During Donald Trump's first impeachment, McCarthy insisted that a similar unilateral move by then Speaker Nancy Pelosi was illegitimate. Of course, hypocrisy is no hurdle for McCarthy. The real problem is that Trump's Justice Department penned a memo arguing that the White House didn't have to comply with subpoenas from an improperly formed impeachment inquiry. Biden's lawyers can invoke not just the memo, but also a 54-page ruling affirming it from a Trump-appointed judge.
You're out of free articles
Create an account to unlock 1 more articles