Crack, Bowie, Crack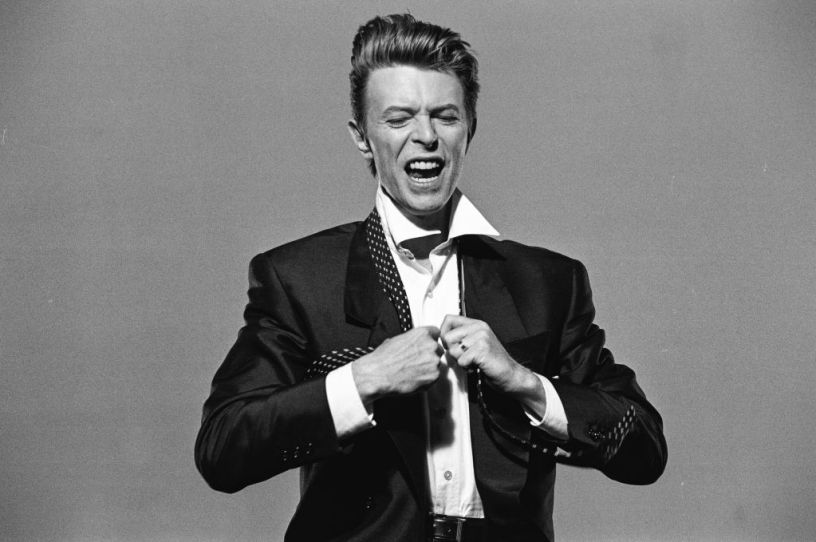 David Bowie (Photo by Lester Cohen/Getty Images)
I'd always believed it would be impossible to make David Bowie boring, but somehow, Moonage Daydream manages to inspire a certain degree of exhaustion with its subject.
In this kaleidoscopic documentary, director Brett Morgen eschews convention. He includes no comments from Bowie's collaborators or loved ones, provides only a thin semblance of a narrative, and ignores large sections of Bowie's life. The film unfolds in the style of an extended montage, melding concert footage with extracts from archival interviews, travelogs, and music videos. It's a relentless sensory onslaught that assails the viewer with flashing lights and overlapping sounds. Occasionally, animated sequences are inserted, and Bowie's live performances are frequently intercut with clips from the movies that comprised his cultural diet, ranging from 8½ to A Clockwork Orange. Morgen conjures up an appropriately eccentric spectacle that initially dazzles, but the spell fades as he advances through Bowie's career, regaining its hold on the viewer only intermittently.
The film's structure is loosely chronological—it explores Bowie's various musical reinventions in the order they occurred, but regularly shifts between phases of his life that share a common thematic link. Morgen begins in 1973: It's the twilight of the Ziggy Stardust era, when Bowie defined the zeitgeist of postwar Britain and inspired a level of zealotry among its youth rivaled only by Beatlemania. As he performs "All the Young Dudes" before a euphoric London crowd, stalking the stage like a contented cat, his stardom seems almost superhuman. With his wealth burgeoning and a legion of fans assembling behind him, he should be at least satisfied with life. But in private, he seems isolated and confused, as unsure of his ambitions and fearful of the future as any young man. Besides art, Morgen is equally fixated on philosophy, and as the film progresses, we learn that Bowie struggled to find happiness throughout his life, eventually achieving it in middle age with his marriage to the supermodel Iman. Musings from Bowie on fulfillment are sprinkled throughout—in one affecting sequence, he describes how he feels unique among his friends for not being utterly miserable. These could easily become saccharine—after all, the man was a pop star, not a guru—but they appear only when relevant to important events, and the result is authentically life-affirming.
In interviews taken from across his career, Bowie offers his views on subjects such as spirituality, art, and sexuality—the latter prompted by the English broadcaster Russell Harty asking if he wears "bisexual's shoes"—which Morgen uses to explore aspects of his personal life. Bowie's childhood in Brixton and his relationship with his half-brother, Terry Burns, are examined at length. But other significant events—such as his marriage to Angie, his first wife, and the subsequent disintegration of that relationship—inexplicably go unmentioned despite their influence on his work. The same problem applies to Morgen's treatment of Bowie's discography. Few besides the most ardent of aficionados would hold Bowie's work in the 1990s and 2000s in the same esteem as his '70s output. But when Morgen dedicates little more than five minutes to that period and acknowledges only two of the nine studio albums it produced, the lack of balance is jarring. Likewise, no attention is given to Bowie's withdrawal from public life in 2004 and his surprise comeback in 2013, despite the intense speculation his return provoked and the shocking nature of his death a mere three years later.