Dems Face a Test After Tuesday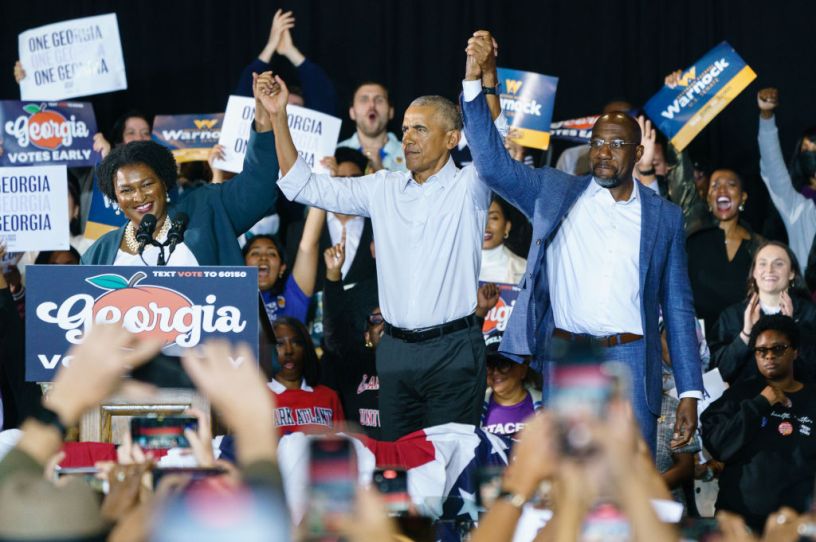 Former President Barack Obama raises hands with Stacey Abrams and Raphael Warnock at a campaign event. (Photo by Elijah Nouvelage/Getty Images.)
Democrats have been trying to prepare themselves for what may be a very unhappy Election Day and its aftermath.

Lis Smith, as good a communications guru as any her party has, offered some great advice to her fellow Democrats in the Sunday New York Times on lessons to be learned from a loss, encouraging members of the blue team to recruit "candidates who might not check the box of every national progressive litmus test but who do connect with the voters in their state."

But the headline gives away the mood for the party on election eve: "Democrats, Don't Despair. There Are Bright Spots for Our Party."
Oof.
Had you told most of the Times' readers a year ago—heck, even two months ago—of that headline, they would have wondered what went wrong. If a party stalwart is telling readers of the leading news source for blue America "don't despair," things must be pretty bad. With Democrats poised to lose both chambers of Congress and even safe Senate seats in party strongholds like Washington state seem at least competitive, a Democrat from 2021 would have to wonder what went sideways.
Or what about the Democrats who were delighted about the havoc former President Donald Trump was wreaking in Republican primaries? What about the Democrats who gave money to prop up kooks and con artists in Republican primaries because they would be so easy to beat? What about the Democrats who told me they were excited about Republicans rallying around Trump after the FBI searched his Florida home because it meant Trump would definitely be the GOP nominee and "can't win."
Get every newsletter and all of The Dispatch. Support quality, fact-based journalism.
Get Started
ALREADY HAVE AN ACCOUNT? SIGN IN