Details on McCarthy's Concessions Still To Come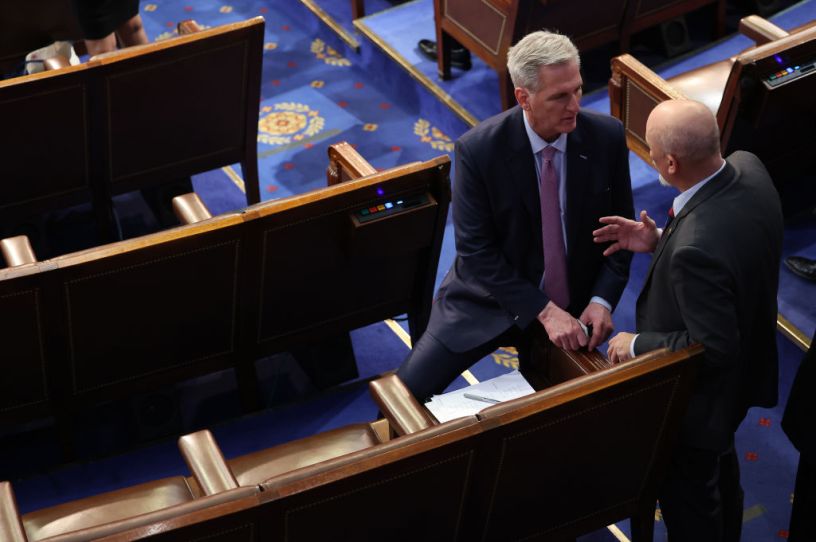 U.S. House Republican leader Kevin McCarthy talks with Rep.-elect Chip Roy in the House chamber Friday. (Photo by Kevin Dietsch/Getty Images)
After 15 rounds of voting, Kevin McCarthy has secured the House speakership. Exactly what he gave to his opponents to get over the finish line? Members will find out, eventually.
For now, many are in the dark. The one public document indicating changes is the revised House rules package, and only one aspect of McCarthy's deal with his detractors is included in it. The rest of the deal—in writing somewhere else—is more nebulous.
"No one really knows," Rep. Maria Elvira Salazar, a Florida Republican, told The Dispatch on Friday afternoon. "Whoever told you anything, it's lying. Because we have not been informed officially what it is they negotiated."
It is clear, despite the lack of transparency into the negotiations, that McCarthy's deal is sweeping. It would empower any individual member to force a vote on ousting the House speaker, for one thing. (Even Democrats.) It would open up the House floor to more freewheeling amendments processes and debate on spending bills. And it includes a commitment to demand slashes to government spending in exchange for hiking the debt ceiling later this year.