Brace for Disinformation: Here Comes the Cyber Ninjas Report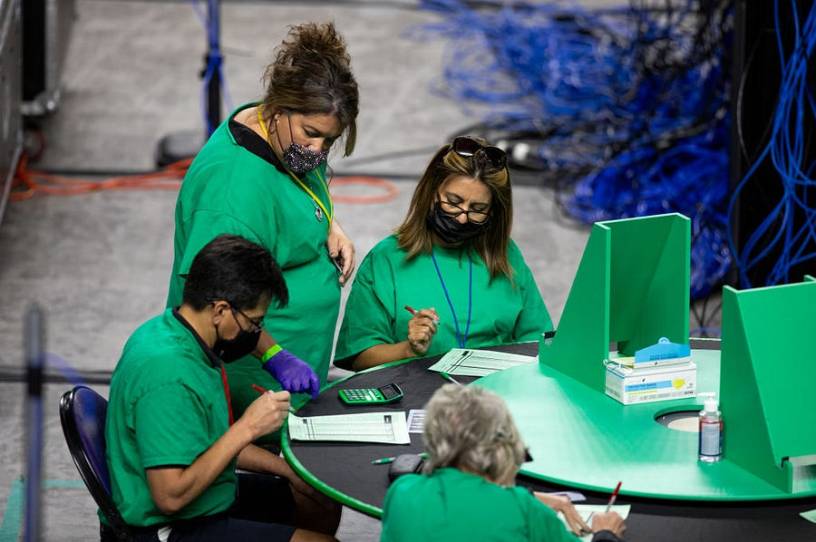 The company conducting an unofficial audit of 2.1 million ballots in Maricopa County, Arizona, was expected to turn in its report to the Arizona State Senate on Monday. In advance of its public release, election officials are pushing back on voter fraud claims and other conspiracies they expect to make an appearance in the report. The audit itself has been the subject of several debunked voter fraud claims.
For some background: Arizona certified its election results with President Joe Biden beating Donald Trump by more than 10,000 votes on November 30. The state conducted multiple official audits of the results, none of which found evidence of widespread voter fraud. Arizona State Senate Republicans called for a further review anyway. A judge issued subpoenas for ballots and other election materials in response to a request from Senate President Karen Fann. The unofficial, Republican-led election review of all 2.1 million Maricopa County ballots and 400 voting machines began April 23.
Senate Republicans, led by Fann, hired Cyber Ninjas, a Florida-based cybersecurity firm with a history of promoting baseless voter fraud claims, to conduct the audit. Cyber Ninjas doesn't specialize in election security or vote counting. Earlier this year, a Michigan resident listed Cyber Ninjas CEO as an expert witness. Logan then falsely claimed there was fraud in Antrim County after the county inadvertently misreported votes in an unofficial vote tally. 
The election review has no official end date, but Cyber Ninjas were expected to deliver its full report to the Arizona Senate this week. That delivery date for the complete report has been delayed, however, after Fann announced that Logan and two members of the five-person audit team have contracted COVID-19. In advance of the release, election officials and experts are emphasizing that what took place was less an audit than a partisan effort to undermine election integrity.