Eric Schmitt Wins the Missouri GOP Senate Primary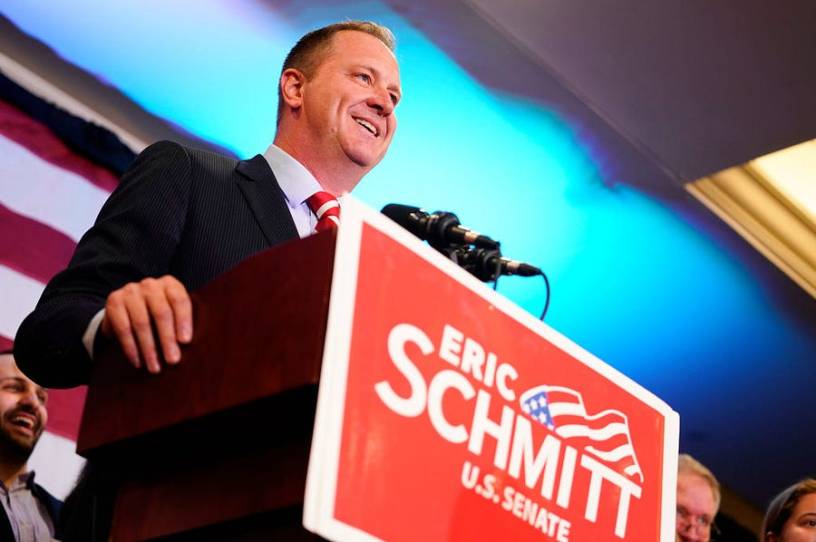 It was close until it wasn't. For most of the past year, the top three candidates vying for Missouri's GOP Senate nomination—state attorney general Eric Schmitt, former Gov. Eric Greitens, and U.S. Rep. Vicky Hartzler—were neck-and-neck-and-neck, all in the 20-point range in the contest's sporadic public polls, with each candidate showing signs at different times of a possible surge. But the dust had barely begun to settle Tuesday night before the outcome was clear: Schmitt had coasted to victory, with forecasters sticking a fork in the race after only a handful of precincts had reported their results. By the end of the night, with about 94 percent of the vote tallied, Schmitt was sitting on 45.7 percent, with Hartzler tagging up at 22 percent and Greitens limping into third with 19 percent. 
Schmitt will face Democrat Trudy Busch Valentine this November in a race he is heavily favored to win. If he does, he'll join a Senate delegation now helmed by his immediate predecessor as attorney general, Sen. Josh Hawley.
There are many reasons why a formerly tight race ended up with such a lopsided win for Schmitt, but the most important was how the attorney general successfully managed to position himself as the most viable alternative pick to former Gov. Greitens, who was attempting a Dark-MAGA comeback just four years after resigning from office in the wake of a sordid sex scandal. Many Republicans in the state and around the country feared Greitens' baggage would risk losing the seat to a Democrat in November. When Greitens' ex-wife, Sheena, accused him in court of abusing her and their children, it deepened their urgency to crush his campaign early. Outside groups poured money into the race, funding ads that reminded voters of Greitens' earlier scandals and broadcasted Sheena Greitens' claims. Greitens, who had entered the race as an early polling favorite, never recovered.
Schmitt had been banking on just such a fade. Although he took periodic shots against Greitens, for months he had campaigned largely as though he were in a two-candidate race against Hartzler, slagging her in ads as a "part of the D.C. swamp" who had spent her decade in office "getting richer off our tax dollars." He got a huge boost in this effort from Donald Trump when the former president slapped Hartzler with a contemptuous anti-endorsement, saying that "I don't think she has what it takes" to fight the left, the media, and squishy Republicans.