Esper Paints Chaotic Picture of Trump Administration's Middle East Policy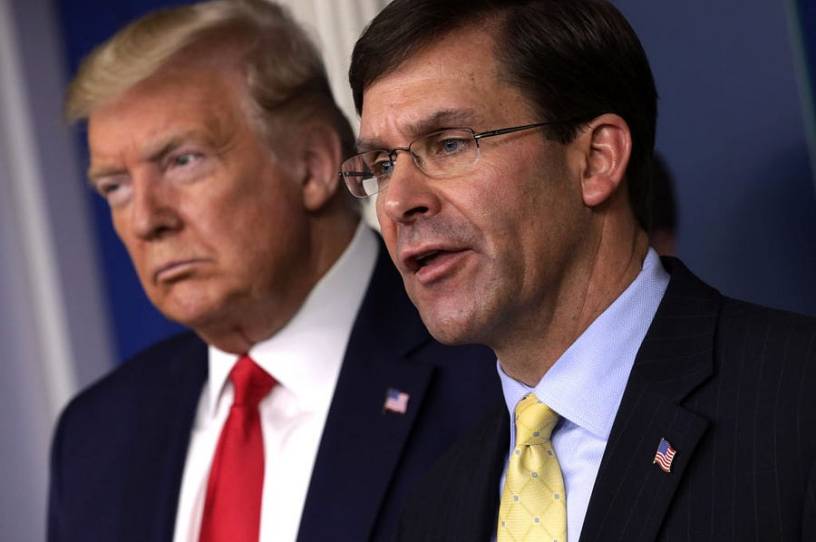 Just after dark on December 27, 2019, more than 30 rockets rained down on a military installation in Iraq's northern city of Kirkuk. Though no group formally took responsibility for the strike, the United States intelligence community had an early suspect in mind: Kata'ib Hezbollah (KH), a well organized and Iran-supported militia operating in Iraq and Syria. According to U.S. assessments, the Shia fighters had carried out at least 10 other high-profile rocket attacks in the region over the course of just two months—all targeting outposts housing American personnel. 
But for the first time in the recent uptick in violence, the militia's incoming rocket fire made a direct and lethal hit, killing Nawres Hamid—an American interpreter and father of two—and injuring four U.S. troops. The attack kicked off a brief but alarming period that moved the U.S., Iran, and Iraqi factions to the brink of war.  
Until recently, however, the United States' very real proximity to another protracted conflict in the Middle East was largely unknown to the public. In a recent tell-all on his time as defense secretary under former President Donald Trump, Mark Esper shed new light on a period of American foreign policymaking reportedly stunted by intra-administration dissent, mired in party polarization, and plagued by failing global alliances. At its heart: an inconsistent and often openly combative commander in chief whose decisions had clear implications on U.S. policy toward Iran and Afghanistan. 
In the administration's dealings with Iran, Esper explained, this inconsistency yielded an ever more confrontational relationship with the sitting Islamic Republic regime. In Afghanistan, on the other hand, Trump's conciliatory approach to Taliban leadership emboldened the terrorist group and led to a half-hearted peace process. Washington's ability to deal with both adversaries suffered for want of a coherent strategy, according to Esper.