Fact Check: Did George H.W. Bush Take Documents to a Bowling Alley?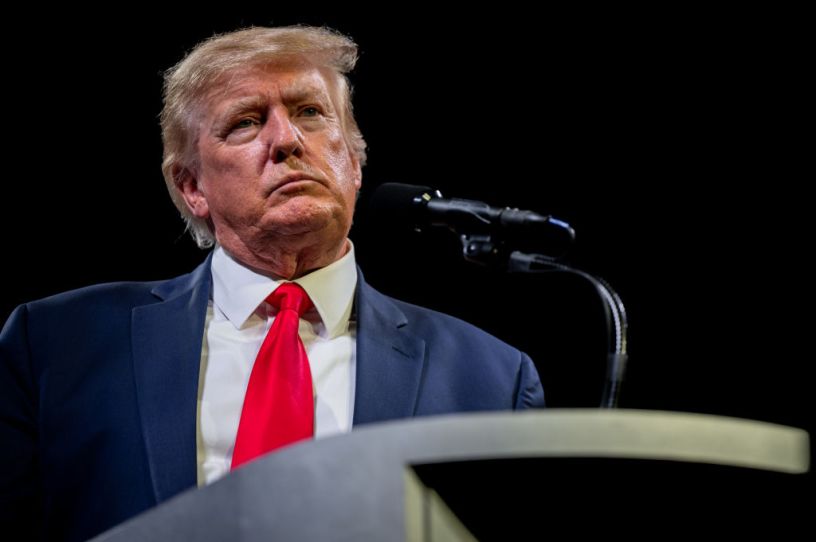 (Photo by Brandon Bell/Getty Images)
Donald Trump on October 9 defended his handling of official documents post-presidency by comparing himself to George H.W. Bush, whom Trump said: "took millions of documents to a former bowling alley and a former Chinese restaurant where they combined them. So they're in a bowling alley slash Chinese restaurant."
There's a kernel of truth to what Trump said: What used to be Chimney Hill Bowl and a Chinese restaurant did indeed house documents from the Bush administration for a time. But Trump's implication that Bush was responsible for these documents is incorrect.
The documents and artifacts in question would eventually find their way into the George H.W. Bush Presidential Library, but given that the library needed to be built after Bush left office in January 1993 and didn't open until 1997, the documents required a temporary storage facility while the library was under construction.
Finding that facility and sorting through the documents was a project that fell to the National Archives, which oversees the preservation of the contents of presidential libraries. A 1994 Associated Press article on the unusual home for these documents noted that the former bowling alley and restaurant were patrolled by uniformed guards, and security cameras and electronic surveillance devices were installed throughout.
Trump made similar claims about Barack Obama allegedly taking documents after his presidency, which were addressed in a previous fact check that noted:
The Presidential Records Act (PRA) of 1978, "governs the official records of Presidents and Vice Presidents that were created or received after January 20, 1981." The NARA further explained that the PRA "changed  the legal ownership of the official records of the President from private to public, and established a new statutory structure under which Presidents, and subsequently NARA, must manage the records of their Administrations.
If you have a claim you would like to see us fact check, please send us an email at factcheck@thedispatch.com. If you would like to suggest a correction to this piece or any other Dispatch article, please email corrections@thedispatch.com.