Fact Check: Did Volodymyr Zelensky Say that U.S. Troops Would Have to Fight in Ukraine?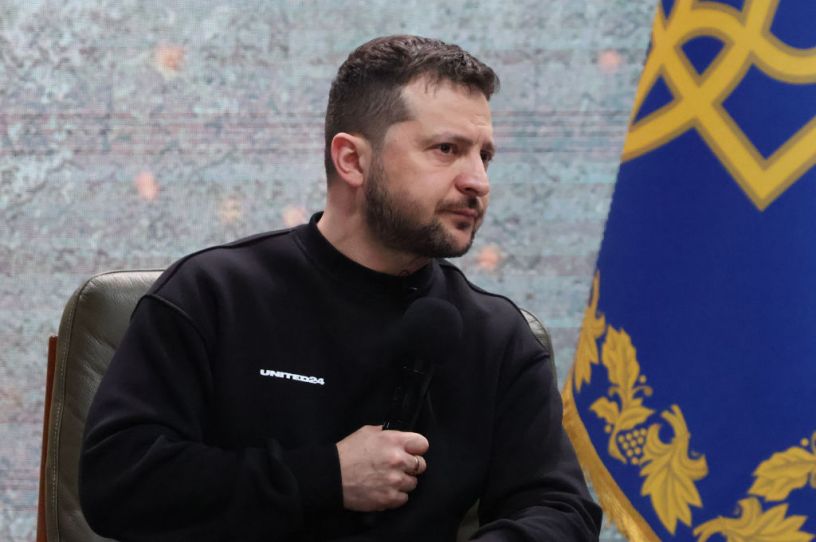 Ukrainian President Volodymyr Zelensky speaks to the media on February 24, 2023, in Kyiv, Ukraine. (Photo by Yan Dobronosov/Global Images Ukraine/Getty Images)
A video clip of Ukrainian President Volodymyr Zelensky has been taken out of context to support false claims that he has called for U.S. troops to fight in Ukraine's defensive ground war against Russia.   
That 19-second clip has been taken from a lengthy press conference Zelensky gave to mark one year since Russia's invasion of Ukraine. Social media users—including Utah Sen. Mike Lee, who later deleted his tweet, and former Deputy Assistant Defense Secretary William Wolfe, who hasn't—have suggested that Zelensky is claiming that the United States will have to send its sons and daughters to fight in Ukraine. Zelensky made no such claim.
The press conference can be viewed in its entirety online here. The 19-second clip is taken from a segment that starts at the 1:37:15 mark of the video, when Zelensky replies to a British journalist who asks him about reports of waning support for the Ukrainian cause among the American public. Here's the relevant part of Zelensky's answer to that question, which includes important context:
The U.S. is never going to give up on the NATO member states, and if it so happens that Ukraine, due to various opinions and the weakening and depleting of assistance, loses, Russia is going to invade the Baltic states, NATO member states, and then the U.S. will have to send their sons and daughters in exactly the same way as we are sending our sons and daughters to war. And they will have to fight, because it's NATO that we're talking about, and they will be dying. God forbid, because it's a horrible thing. I wish for peace and Ukrainian support for the United States.
Zelensky was clearly referring to the fact that Article 5 of the North Atlantic Treaty obligates the United States to join the defense of other NATO members. He was not implying that U.S. forces would have to fight in Ukraine, which is not a member state.
If you have a claim you would like to see us fact check, please send us an email at factcheck@thedispatch.com. If you would like to suggest a correction to this piece or any other Dispatch article, please email corrections@thedispatch.com.