Fact Check: Has Gen. Mark Milley Ever Served in Combat?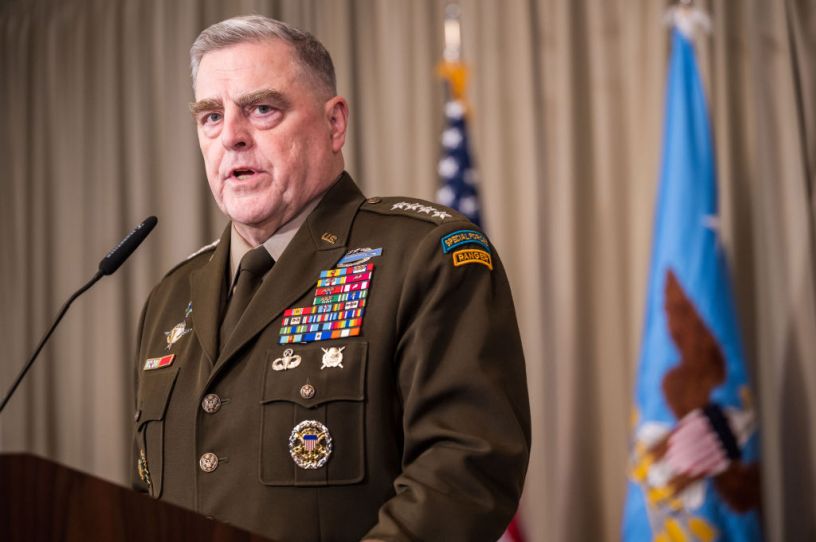 Gen. Mark Milley speaks to the media after a meeting of the Ukraine Defense Contact Group at Ramstein Air Base on January 20, 2023, in Ramstein-Miesenbach, Germany. (Photo by Thomas Lohnes/Getty Images)
Photos of Gen. Mark A. Milley circulating online have captions questioning his military record. Multiple social media posts feature an image of the chairman of the Joint Chiefs of Staff with the caption, "Can someone explain to me how a man who never served in combat and never won a war has THIS many medals on his uniform?"
The claim is false. Milley, who has been chairman of the Joint Chiefs since 2019 (making him the highest ranking U.S. military officer), has served in the U.S. Army for more than 42 years and has an extensive combat record, according to the Army:
He brings with him an extensive background of combat experience having deployed in support of numerous operational assignments including: Multinational Force and Observers Sinai in Egypt, Operation Just Cause in Panama, Operation Uphold Democracy in Haiti, Operation Joint Endeavor in Bosnia-Herzegovina, Operation Iraqi Freedom in Iraq and Operation Enduring Freedom in Afghanistan.
He's also been deployed to Somalia and Colombia, according to his Department of Defense biography.
The photo on his Department of Defense biography page shows him wearing several medals awarded only to service members who have been engaged in active combat, including the Combat Infantryman Badge (on the top left side of Milley's uniform). The eligibility requirements for the Combat Infantryman Badge, according to the Code of Federal Regulations, are: being an infantry soldier, being assigned to an infantry unit while it's engaged in active combat, and participating in that combat.
Also visible on Milley's uniform is an Army Meritorious Unit Commendation, "awarded to units for exceptionally meritorious conduct in performance of outstanding services for at least six continuous months during a period of military operations against an armed enemy on or after January 1, 1944."
If you have a claim you would like to see us fact check, please send us an email at factcheck@thedispatch.com. If you would like to suggest a correction to this piece or any other Dispatch article, please email corrections@thedispatch.com.