Fact Check: Social Media Posts Misidentify Nashville Shooter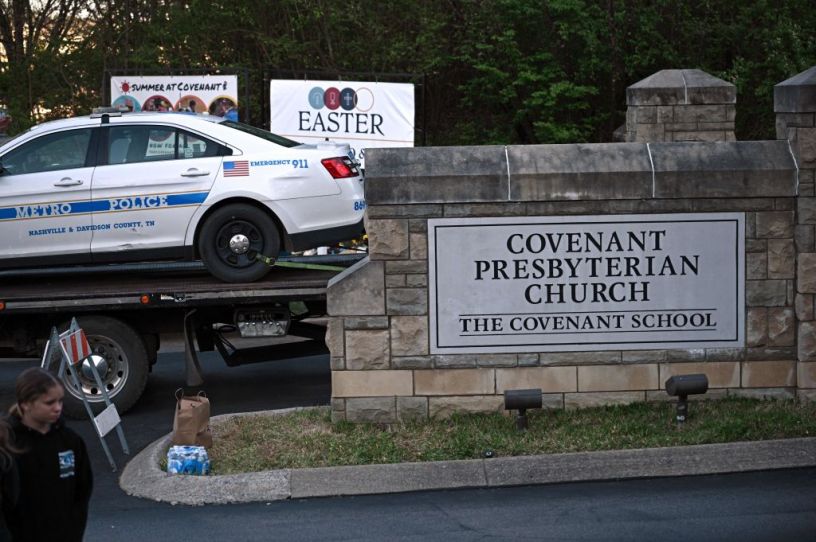 The Covenant School campus, in Nashville, Tennessee, March 28, 2023. (Photo by Brendan Smialowski/AFP/Getty Images)
Social media posts are circulating online that falsely identify the perpetrator of a deadly elementary school shooting in Nashville on March 27 as "Samantha Hyde." The false claim is born of a long-running online hoax that has repeatedly misidentified comedian Sam Hyde as the perpetrator of various mass shootings over the past decade. Nashville law enforcement officials identified the shooter, whom they confronted and killed, as a 28-year-old former student of the school.
In the wake of rumors, which were later confirmed, that the real Nashville shooter had identified as transgender, an old photograph of Hyde holding an assault rifle was digitally altered to show Hyde as transgender.
In addition to his baseless association with various mass shootings, Hyde has also in recent years been falsely identified by social media users as the legendary "Ghost of Kyiv" Ukrainian fighter pilot and as the man responsible for shooting down the famous Chinese spy balloon of earlier this year.
In 2019, Buzzfeed News released a video exploring Hyde's frequent false association with mass shootings: 
 If you have a claim you would like to see us fact check, please send us an email at factcheck@thedispatch.com. If you would like to suggest a correction to this piece or any other Dispatch article, please email corrections@thedispatch.com.