Fact Checking Claims About a Coup in Belarus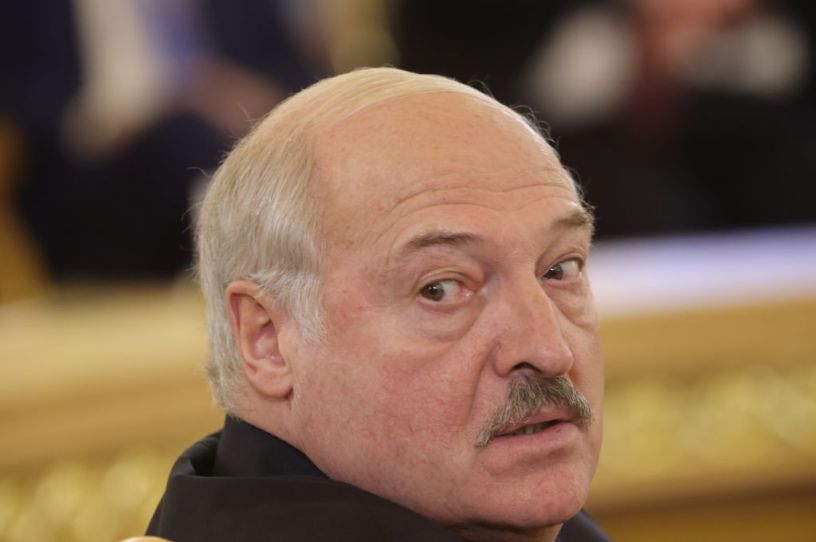 Belarusian President Alexander Lukashenko is seen during the Supreme Economic Eurasian Council at the Grand Kremlin Palace on May 25, 2023 in Moscow, Russia. (Photo by Contributor/Getty Images)
A number of recent videos online claim that a coup is underway in Belarus, with military leaders in the Eastern European country abandoning its alliance with Russia in favor of alignment with NATO.
The videos are identified as being from "FTR Intelligence" and "CRP International" and were posted on Facebook by user named Rylee Paul, whose profile is listed as a "media/news company" and whose feed consists entirely of similar videos about Russia and the Ukraine war. The narrator in the videos is neither seen nor identified. The voice sounds either filtered or AI-generated, and it features numerous grammatical and pronunciation errors. Like many of the videos Paul shares—including ones titled "Unexpected Order from the New Wagner Leader! Countless Soldiers Captured by the Russian Army Rescued" and "Putin in shock- Trapped in the middle of hell Russians have begun to surrender en masse!"—these posts seem designed to mimic the style of more legitimate mainstream broadcasts.
In one video, the narrator claims that "a large number of anti-Lukashenko groups have ensured unity in the opposition." Another video claims that "a strong opposition coalition has begun moves to remove Lukashenko from power."
While independent journalism and political opposition within Belarus has been routinely suppressed since the Lukashenko government's crackdown on post-election protests in 2020 and 2021, there is no clear evidence that any form of coup or significant opposition-led activity is taking place in the country. "There's no national nationwide movement against Lukashenko right now, people are keeping their heads down," Luke Coffey, senior fellow at the Hudson Institute, tells The Dispatch. "The Belarusian security services have really put a lock on opposition and civil society protesting."
Because of the mass imprisonment and expulsion of political opposition in Belarus after the country's 2020 elections, the prospect of a plausible challenge to Lukashenko's power from within the country is remote. "In terms of opposition movements or civil society rising up, most of them are either in jail or out of the country," Coffey notes. "So I also see that as being highly unlikely."
The videos from Paul also advance a number of other narratives, including a Belarusian general of British nationality rebelling against the alliance between Putin and Lukashenko, as well as Belarus asking for—and being denied—entrance into NATO.
Though Belarus has participated in NATO's Partnership for Peace program since 1995, the organization severed all practical coordination with the country in 2021 and has condemned it for helping enable Russia's invasion of Ukraine. There is no evidence that the country has since attempted to join or realign itself with NATO, and its alliance with Russia appears steady. Similarly, The Dispatch could not find any information supporting the existence of the Belarusian general—named "Kuznetsov"—mentioned in the video.
If you have a claim you would like to see us fact check, please send us an email at factcheck@thedispatch.com. If you would like to suggest a correction to this piece or any other Dispatch article, please email corrections@thedispatch.com.