First Legal Challenge to Biden's Student Loan Cancellation Emerges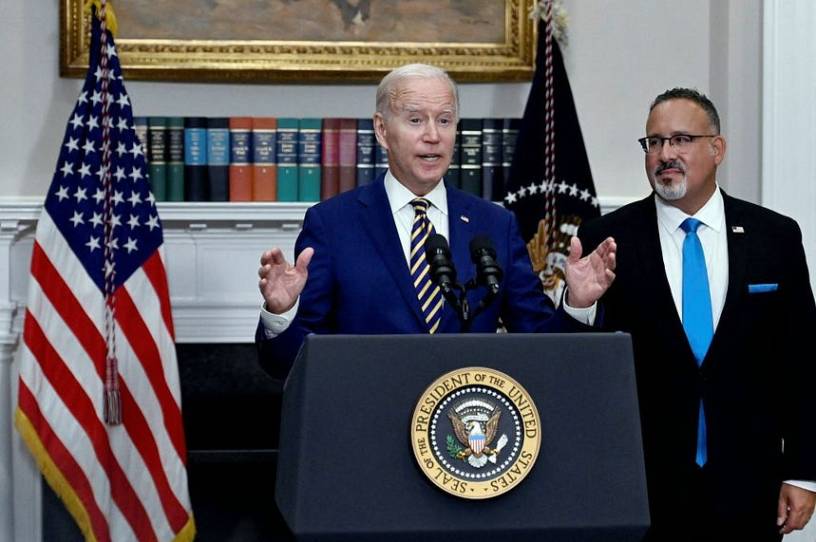 From the moment President Joe Biden announced he would forgive hundreds of billion dollars of American student loan debt using emergency pandemic authorities, it was inevitable the unilateral move would face legal challenges. 
The first such challenge was filed Tuesday in the U.S. District Court for the Southern District of Indiana by the conservative Pacific Legal Foundation, which bills itself as "the nation's most relentless organization fighting against unconstitutional government overreach." It accuses Biden's Department of Education of ignoring that "Congress is the branch of government that possesses the exclusive power to make law" by claiming "the Secretary of Education has the power to 'automatically' issue blanket loan forgiveness to 8 million borrowers."
The suit takes aim at Biden's ability to broadly forgive loans under the 2003 HEROES Act, which gives the secretary of education the ability to provide debt relief to any person who "suffered direct economic hardship as a direct result of a war or other military operation or national emergency." The Biden administration has argued this provision can be stretched to include every borrower in the country under the ongoing COVID-19 national emergency. The PLF's suit argues that the HEROES Act "bestows the Executive with lawmaking power in violation of Article I of the Constitution."
The suit's plaintiff is Frank Garrison, an Indiana resident, a PLF attorney, and a holder of student debt. Far from bringing him relief, the filing alleges, Biden's debt cancellation is actually likely to result in financial harm to Garrison, who—as a full-time nonprofit employee—will eventually likely be eligible for full debt forgiveness under the Public Service Loan Forgiveness program. The harm would come because Indiana is one of six states that currently intends to tax Biden's loan cancellation as income.