Hamas' Online War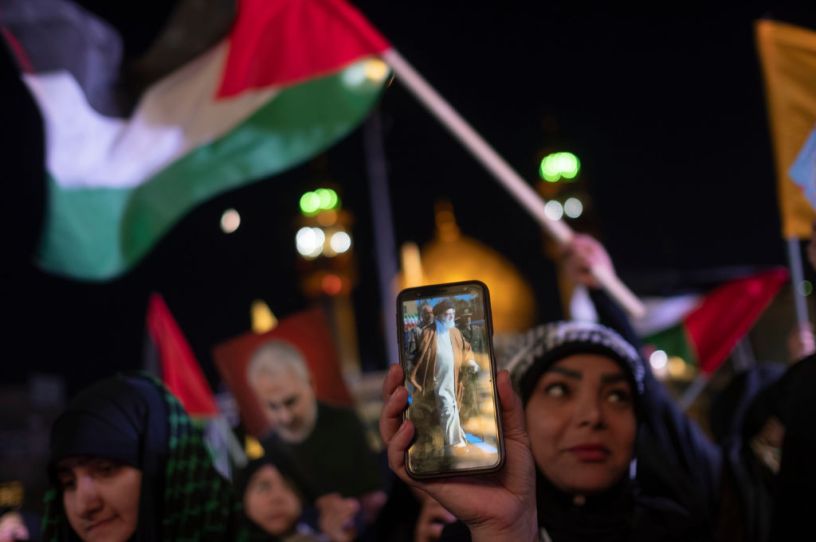 A female protester holds-up her cell phone featuring a portrait of Iran's Supreme Leader Ayatollah Ali Khamenei, in a rally protesting the Israeli attacks on Gaza city, at the Palestine square in downtown Tehran, October 20, 2023. (Photo by Morteza Nikoubazl/NurPhoto via Getty Images)
In the wake of a deadly blast at a hospital in Gaza City last month, a social media influencer and self-proclaimed independent journalist named Plestia Alaqad took to Instagram to bring attention to the plight of Palestinian civilians.
"Yesterday, a complete massacre happened at Al-Ahli Hospital," she told her more than 2 million followers, blaming the casualties on an alleged Israeli attack. "Around 1,000 civilians were killed and martyred."
But the death toll didn't approach 1,000 or even the more conservative figure of 500 later provided by the Hamas-run Gaza Ministry of Health. It was closer to 50. And multiple government and independent analysts attributed the bombing to a misfired Palestinian rocket, not an Israeli airstrike. Yet Alaqad's post, which has garnered nearly 150,000 likes, is still live on Instagram.
She's one in a network of internet users knowingly—and sometimes unknowingly—amplifying Hamas disinformation amid the terrorist group's ongoing war with Israel. The campaign is working. Online narratives minimizing atrocities committed against Israelis and magnifying Palestinian victimhood have reached audiences across the United States and Europe, particularly among young social media users, with resounding, real-world consequences.
You're out of free articles
Create an account to unlock 1 more articles