A Dark Day for the Middle East—and Journalism
"Israeli Strike Kills Hundreds in Hospital, Palestinians Say," the New York Times banner headline screamed on Tuesday afternoon. The leadership of the Hamas terrorist organization could hardly have dreamed of better framing as news of the explosion and fire at Gaza's Al-Ahli Ar hospital began to trickle out.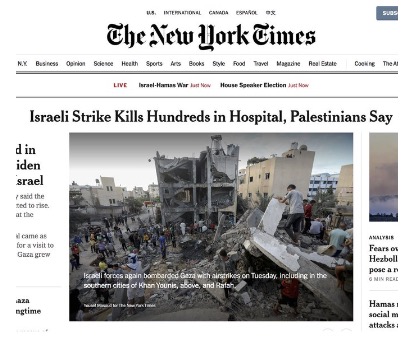 That framing included a photograph of devastating carnage that Times readers likely believed depicted damage to the hospital in question. But not only was the Times story topped with a headline framed entirely around the word of the Hamas-controlled Palestinian authorities in Gaza, the accompanying photo was not even of the hospital, but rather of a building in a city some 15 miles to the south. That, however, was only the tip of the iceberg when it comes to the New York Times' journalistic malpractice this week.
The Headlines
While the Times led with "Israeli Strike Kills Hundreds in Hospital, Palestinians Say," that initial headline—as is often the case with online media—didn't last long. "Israeli" was dropped from the next version—"At Least 500 Dead in Strike on Gaza Hospital, Palestinians Say"—perhaps due to the Israeli Defense Forces' cautious but firm pushback on the accusations. That "500" figure was changed to "hundreds" in subsequent headlines, and while yet unconfirmed, a report on Thursday citing a European Union official suggested the true number of fatalities is between 10 and 50.
"Strike" was the next word to get the ax, as visitors to the Times' website were greeted with "Hundreds Dead in Blast at Gaza Hospital, Palestinians Say." Eventually, the banner headline received the passive-voice treatment: "Biden Heads to Israel as Hospital Explosion Convulses Region." Although the Times had run a separate story by that point conceding that "the cause of the blast and the precise death toll remained unclear," a tweaked version of the original headline—"Hundreds Killed in Gaza Blast, Palestinians Say"—remained lower on the home page for several hours on Wednesday.
You're out of free articles
Create an account to unlock 1 more articles